Advertisements
Little Predator is the title of this image by Georgian photographer Viktor Lyagushkin, who has won the Underwater section of the fourth annual Close-Up Photographer of the Year 2022 competition (CUPOTY 04).
"This is a Lucernaria quadricornis (Stauromedusae), a stalked jellyfish, photographed beneath the ice of the White Sea in Russia – the only freezing sea in Europe," says Lyagushkin. "The green colour of the water is a sign of spring as algae grows.
"The 'leg' of the jellyfish helps it to attach to a stone or seaweed. Its tentacles project up or down, waiting for prey. If its hunt is successful, it catches the prey and collapses its tentacles into a fist. If the hunting site is no good, Lucernaria walks away on its 'leg', or sometimes its 'hands'."
(Nikon D850 with Nikkor 8-15mm f/3.5-4.5 Fisheye, Subal housing, Ikelite DS160 strobe, 1/80th, f/13, ISO 3200)
More than 9,000 photographs from 54 countries were entered across the 11 categories of CUPOTY 04. The entries, the majority of which are in the 10 mainly topside categories, are judged by a panel of 19 experts, including underwater photographer Scott Portelli.
In second place in the Underwater category was Beauty And The Beast by South African photographer Kate Jonker, who was battling surge to capture the shot.
"As I was shallowing up after a 25m dive at Steenbras Deep in the centre of False Bay I came across a small patch of Mediterranean mussels," she says. "This invasive species, brought to the waters off Cape Town in the bilge of passing ships in the 1980s, is a beast, replacing the colourful marine life on shallower sections of some reefs with dark patches.
"While I was investigating the impact these mussels were having on this particular section of reef, I found a beautiful bluespotted klipfish (Pavoclinus caeruleopunctatus) perched among the mussel shells. He peered up at me cautiously, watching my attempts to battle the surge while photographing him with a shallow depth of field. 
"My aim was to capture his beauty while softening the sharp edges of the mussels. A challenge not only due to the limited dive-time I had remaining, but because of the surge that was washing me to and fro while I tried to focus on his eye."
(Nikon D850 with 105mm macro, two Supe D-Max strobes, Orcatorch D900V, 1/125th, f/11, ISO 100)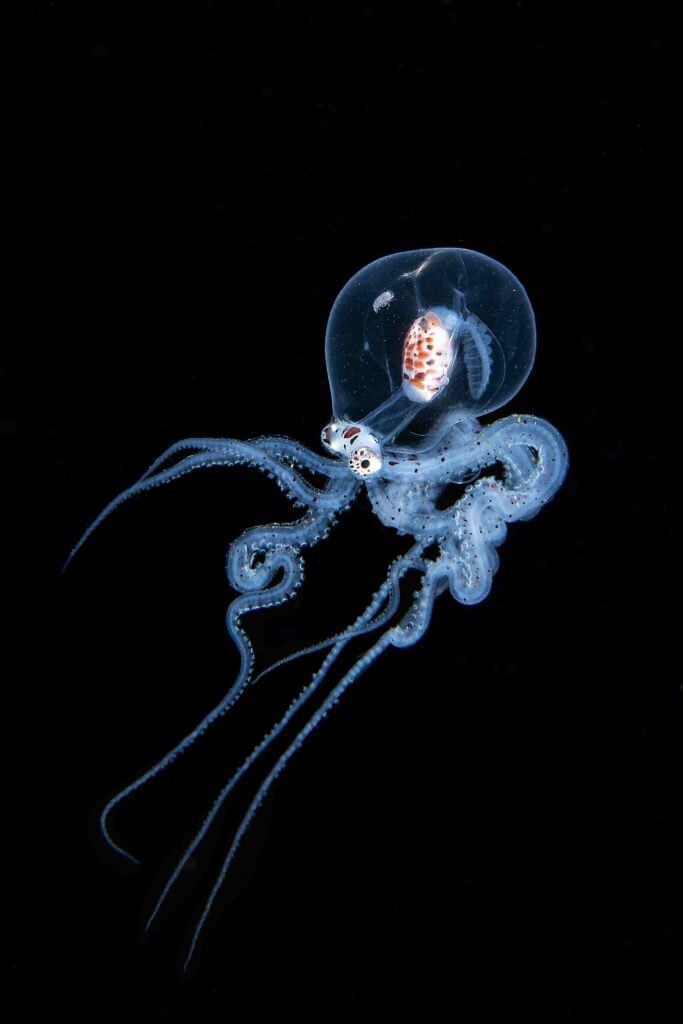 Italian photographer Pietro Cremone took third place with his blackwater shot The Martian: "At night, many planktonic forms of animals come up from the deep sea, making it possible to take pictures of these fantastic critters," he says. 
"This is the larval form of a mimic octopus (Wonderpus photogenicus). It was taken while I was floating 90m below the surface at Anilao, Philippines in complete darkness without any points of reference."
(Nikon D850 with 60mm macro, unspecified housing & strobes, 1/250th, f/20, ISO 500)
Seven other underwater photographs were shortlisted as finalists by the judges, including one by British underwater photographer Catherine Holmes. "In this image I have tried to portray the dream-like feeling one feels under water," she says of Bokeh Anthia, a shot of the small fish so commonly found in the Egyptian Red Sea. 
"I used an in-camera double exposure to create the image," she says. "A retro Meyer optic Oresten lens was used to capture the bokeh bubble effect, which was combined with a more traditional shot of the fish with a Sigma 17-70mm lens."
Advertisements
(Nikon D500 with Sigma 17-70mm & Oreston 50mm, Nauticam housing, Retra Pro strobes, 1/1600th, f/5, ISO 320)
Adriano Morettin from Italy made an impression with The Scream of Munch, taken in the Gulf of Rijeka, in the northern Adriatic off Croatia: "This photo portrays a male Mediterranean horned blenny lit from behind. During the mating phase, it is quite common for the blenny to lean out of the burrow and open its mouth wide to scare its rivals."
(Nikon D800E with 60mm micro, Seacam housing, Seacam 150 strobes, Retra LSD snoot, 1/250th, f/22, ISO 100)
Boldizsar Szucs from Hungary's entry was From Below, taken in central Europe's largest floodplain forest Gemenc. "It was shot in May, when the Danube river flooded and water poured into the trees. The original plan was to photograph European fire-bellied toads, but I couldn't find any. 
"Fortunately, I found this beautiful raft spider (Dolomedes fimbriatus) and photographed it from below the water's surface."
(Panasonic Lumix G9 with Samyang 12mm F/2.8, DIY waterproof case, 1/80th, f/10, ISO 320)
Advertisements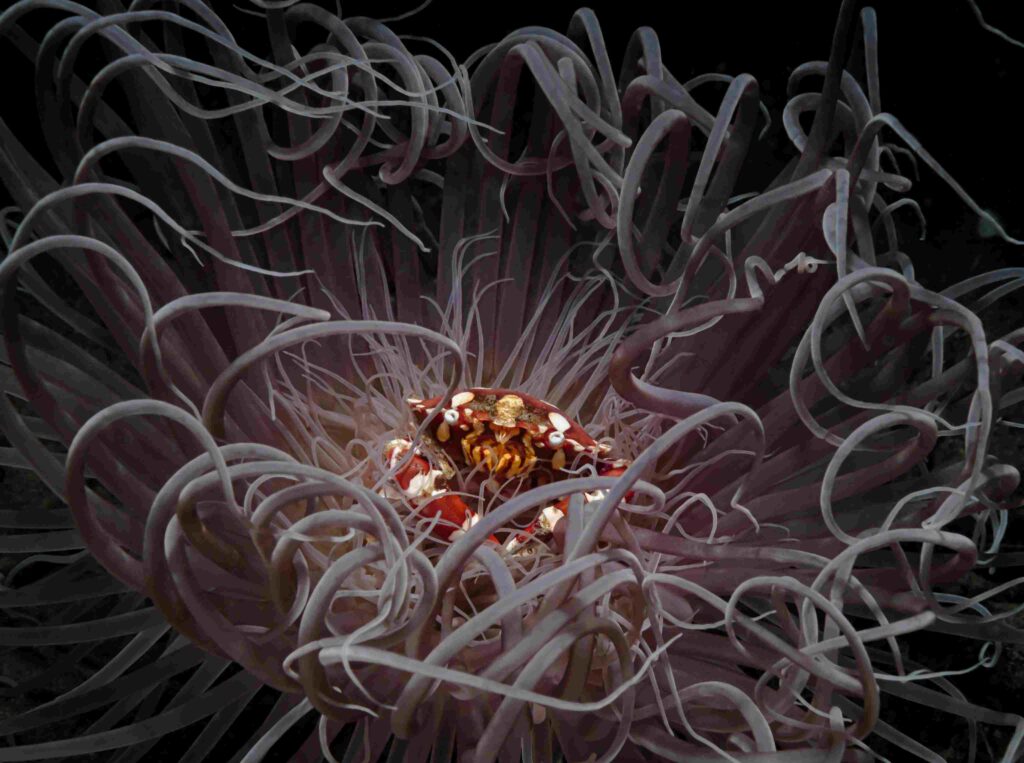 Fragile and Delicate is the title of Russian photographer Andrey Savin's shot of a porcelain crab on an anemone at night under Baсong Pier in the Philippines.
(Panasonic GH5 with Olympus 60mm macro, Retra Pro Flash with reflector, 1/200th, f/14, ISO 200)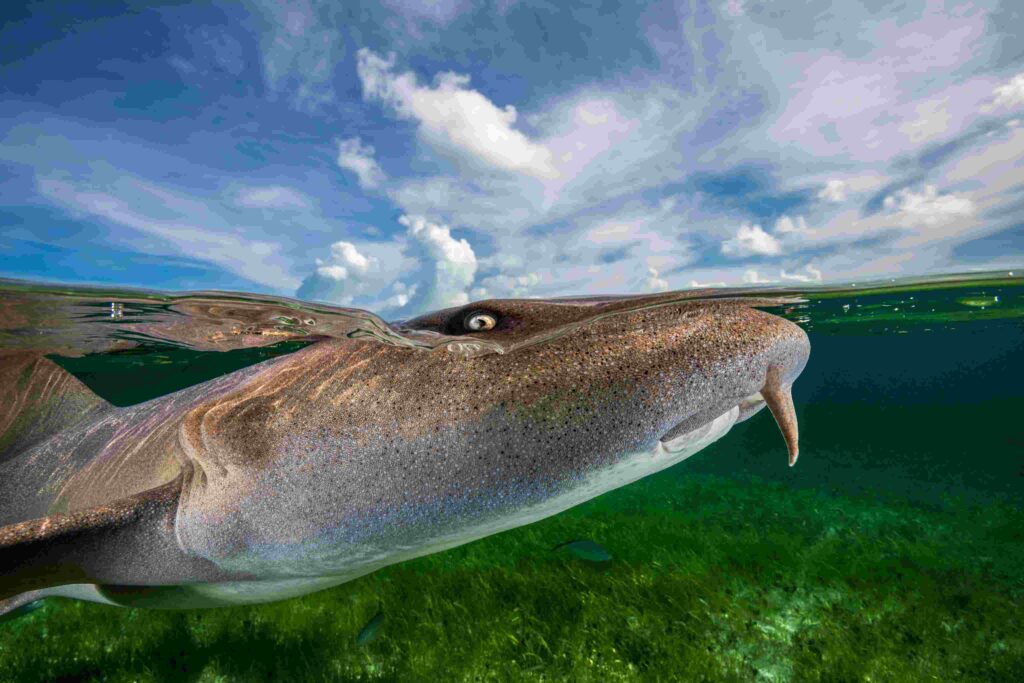 American photographer Remuna Beca's I See You depicts a nurse shark (Ginglymostoma cirratum) peeking above the water to get a better view. "I captured this image in late 2021 near Bimini in the Bahamas, when this inquisitive shark swam up to investigate the dome of my underwater housing and seemed interested in admiring her reflection. 
"The calm conditions were ideal for a split-shot and, as she swam by, I was able to capture this precise moment of eye contact when she peered above the water."
(Nikon D850 with Nikkor AF-S 16-35mm f/4G ED VR, Inon Z-330 strobes, 1/250th, f/16, ISO 250)
Category winner Viktor Lyagushkin had a second shot in the final 10 in the shape of Low Marks Again. "Caprella, also known as skeleton shrimps, are funny animals, and very small," he says. "Highly social and active, they live, eat and fight with each other non-stop."
Advertisements
(Nikon D850 with Nikkor 8-15mm f/3.5-4.5 fisheye, Subal housing, Ikelite DS160 strobe, 1/100th, f/13, ISO 1600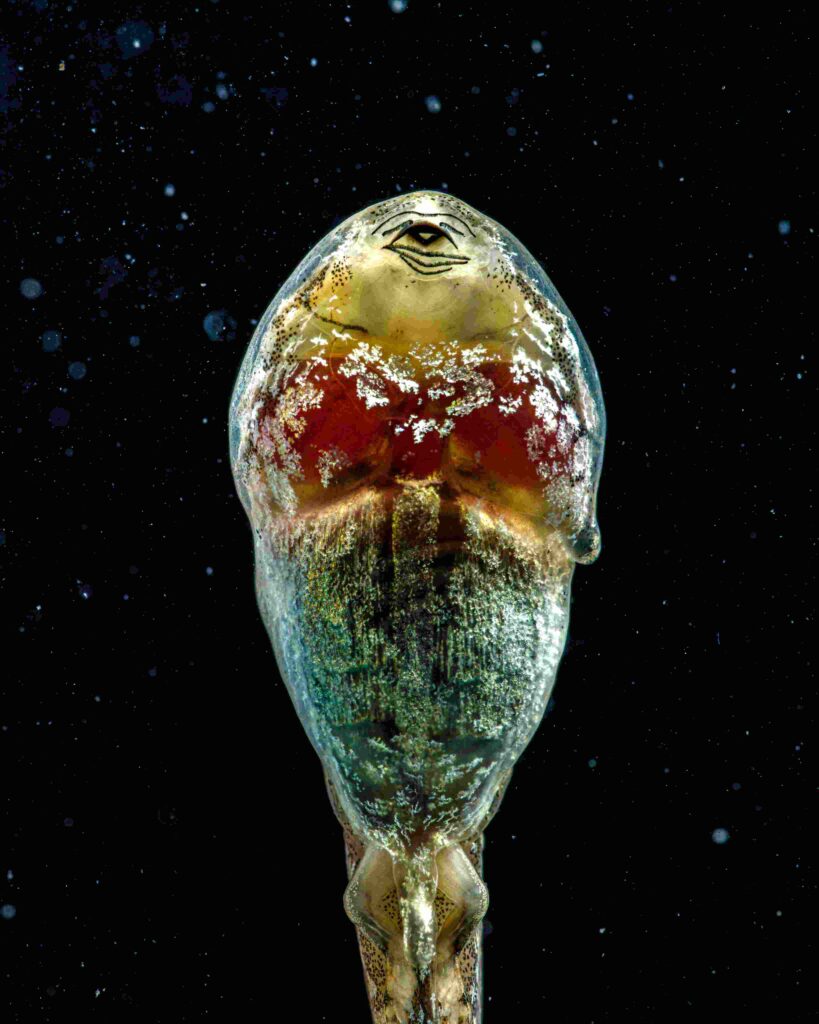 The shot wasn't taken on a dive, but Pavan Kumar from India was an Underwater finalist by virtue of his eye-catching Alien Spaceship: "During Covid lockdown, I found a tiny park near my home where I could shoot some macro pictures, and discovered life in a tiny patch of greenery." 
He found a decorative pool around 3ft in diameter containing a lot of mosquito larvae. "I kept looking at them, in the hope of finding one emerging out of the water. There were tadpoles in there as well, but they didn't look that interesting. 
"All of a sudden, something moved quickly and struck a tadpole down, and started eating it. It was a dragonfly larvae! While this scene was happening, the ventral portion of that tadpole was visible, and it shone like gold."
A few days later the park was being renovated and the pond was about to be cleared. "I bought an aquarium and rescued a few tadpoles and dragonfly larvae," says Kumar.
"This image was shot using the aquarium, while the tadpole was near the glass. I used two off-camera flashes, non-diffused. I could see that it looked like something you might see in a movie, hovering in the sky."
Advertisements
(Pentax K1 with D-FA 100 2.8 Macro WR, tripod, Godox XproP, Godox TT350, Simpex strobe, 1/200th, f/13, ISO 100)
CUPOTY was launched in 2018 by Tracey & Dan Calder, who are based in Winchester, Hampshire.
Also on Divernet: Be The Champ: A Close Look At Bokeh, Ultra Narrow Field Of Focus, Critter Fiddling
Advertisements