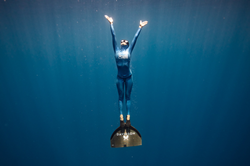 NEW YORK (PRWEB)
January 17, 2023
As home to the largest coral reef in the Americas, Honduras invites travelers to explore an underwater wonderland of abundant marine life, with its squadrons of eagle rays, schools of brightly colored fish, and vibrant coral reefs accessible for year-round visibility. The vibrant Mesoamerican Barrier Reef hugs The Bay Islands just off the mainland with 700 miles of colorful corals and more than 500 species of fish. From the deep reef crevices of Roatán and the massive whale sharks of Utila – to Guanaja's wreck dives and the unspoiled paradise of Cayos Cochinos, travelers can diver deeper into Honduras's natural beauty with these top diving and snorkeling experiences:
SCUBA DIVING & SNORKELING

The Bay Islands are famous amongst scuba divers and snorkelers of all skill levels thanks to the spectacular reef and its close proximity to shore. The three famous dive spots in the Bay Islands – Utila, Roatán and Guanaja archipelagos – invite intrepid divers to discover underwater worlds, swim with whale sharks and explore hard and soft coral reefs. Enjoy a close encounter with coral formations or deep-dive 2,000 feet to site bluntnose shark. Many lodges and resorts like Infinity Bay and Anthony's Key have on-site dive shops, and plenty of independent businesses such as Roatán Divers and Clearwater Adventures dotting the islands offer guided snorkel tours by boat and self-guided explorations from shore. Splash Inn Dive Resort presents a full list of the 40 most popular Roatán dive sites, complete with dive site information, photos, and location details.
Mary's Place in Roatán, one of the most popular dive sites in all of Honduras, is famous for its 100-foot volcanic canyon which gives way to an abundance of marine life, black coral trees, and giant sea fans. Southwest of Roatán and a haven for hardcore divers, Utila is known as one of the safest and least expensive places in the world to get PADI diving licenses of all levels. The island boasts more than 80 dive sites, including the sea mound of Black Hills. Utila is one of the only places on the planet where whale sharks are seen year-round, although they are most commonly seen in spring and early fall. The artificial wreck of the Jado Trader, a 260-foot freighter sunk in 1987, is Guanaja's signature wreck dive.
The pristine Caribbean waters of Cayos Cochinos, an area comprised of two small islands and more than a dozen coral cays, are filled with banded butterfly fish, queen conch, sea cucumbers, and more. Recognized as a marine protected area, Cayos Grande, the largest of the volcanic islands, is the only island where tourists are allowed to snorkel. Open Water Diver Certified visitors can sign up for coral reef cleaning and transplanting, a conservation initiative led by Cayos Cochinos Foundation where volunteers partake in two 40-50 minute dives a day to clean and measure coral being grown and monitor the site where healthy coral has been transplanted.
FREEDIVING

For travelers searching to discover new limits, freediving can be a relaxing yet exhilarating way to explore the steep slopes of The Bay Islands. Unlike scuba diving and snorkeling, freediving is done without the help of breathing apparatus – with divers holding their breath as they descend to depths of 30-feet or more. It's a meditative adventure that offers a more intimate interaction with ocean life. With calm currents and deep abyss that lies just beyond the reef wall makes Honduras ideal for freediving. Home to the annual Caribbean Cup Freediving Competition, Roatán has established itself as a worldwide destination for the sport. Roatán Freediving School & Training Center offers beginner to instructor level courses. The one-day introductory course includes one open water session and is aimed to help students develop the basic skills, knowledge, and safety procedures. Freedive Utila, the first freediving school in Central America and the Caribbean, offers instruction for all levels of experience, with beginner courses taking place over two and a half days – enabling safe dives as deep as 20 meters.
SEMI-SUBMARINE

For travelers of all ages interested in exploring the natural wonder of the Mesoamerican Reef without getting wet, Hyde Tours Roatán offers an incredible semi-submarine glass bottom boat excursion. Kids and adults venture six feet underwater in a glass bottom boat to discover vibrant corals and sea creatures that complete the colorful seascape during the 45-minute excursion along the reef. The tour departs from the island of Roatán's West Bay Beach, an underwater haven where coral reef is close enough to swim to from shore, offering excellent snorkeling and shore diving straight from the beach.
###
About Honduras

Located in the heart of Central America, Honduras is a destination rich in biodiversity as home to a diverse array of ecosystems including dense rainforests, towering cloud forests, rushing rivers, and the largest coral reef in the Americas. This landscape provides the setting for boundless outdoor and adventure activities including whitewater rafting, waterfall repelling, birdwatching, SCUBA diving, snorkeling and more. Honduras was an important center of the ancient Mayan world, and archaeologists and history buffs are drawn to the Copán Ruins, a UNESCO World Heritage site located near the country's western border with Guatemala.
Four major airports serve Honduras in San Pedro Sula, La Ceiba, Roatán, and the capital city of Tegucigalpa, where the new and modern Palmerola International Airport, located in the city of Comayagua, recently debuted in 2021. Direct air service from the United States is available on major carriers from New York City, Miami, Fort Lauderdale, Houston, Atlanta, and Dallas.
Media Contact:

Jennifer Jackson

PTG Consulting

[email protected]

Tel: +1 904 535 7167
Share article on social media or email: