By Michel Gilbert & Danielle Alary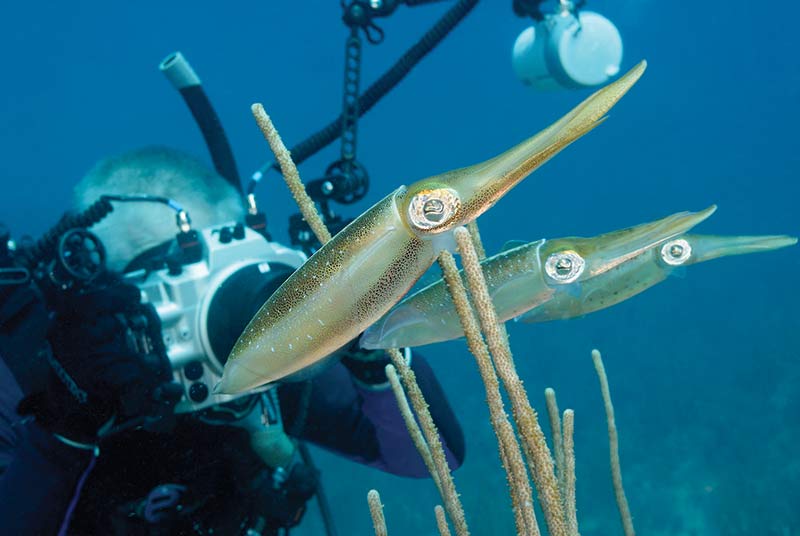 One of the first lessons we learn in photography is to put emphasis on a single subject. However, sometimes having a secondary point of interest adds value to an image.
We all go through a learning curve. First, we snap pictures of a subject we clearly see in the viewfinder. Upon looking at the results we realize that the subject is lost in its environment. We then learn to focus [no pun intended] on a single point of interest.
This lesson becomes the foundation upon which we build our experience. In essence, it doesn't mean that there should only be a single subject in all our images. It rather suggests that there must be a main point of interest and, possibly, secondary ones, too.
In other words, the main subject must be obvious, and we may add others as long as the image speaks for itself.
One is great, two may be better
Like it or not, in most wide-angle pictures there are secondary subjects. Anyone shooting wide lenses has included what we call 'collateral subjects' in some images, most often without even realizing it. It happens when one becomes infatuated by the main subject and forgets about the rest of the world.
Fortunately, nowadays Photoshop's healing brush comes to the rescue of those who commit this sin. Your image may not make it through a photo contest where such manipulation is prohibited, but who cares, especially if you simply hang it on your wall? 
In essence, a secondary subject is something that you voluntarily include in the composition to produce a stronger picture. In real-life it means that you must make a conscious effort to scan the environment and purposefully incorporate one or more secondary subjects in the frame.
Getting Spoiled
Adding a secondary subject or a secondary point of interest (SPOI) means a two-step process.
First, find a main subject. It can be a sponge, an anemone, a fish—anything worthy of special consideration among the treasures found below the surface. If your camera sports a wide lens, get in close and look around. Think close-focus wide-angle. Select a suitable SPOI and determine the best applicable composition.
Second, think about lighting. Most likely your strobe will illuminate the main subject. Based on the aperture needed for proper strobe illumination, take an available light reading and set the shutter speed accordingly. Make sure it doesn't exceed the strobe sync speed (usually around 1/250 second). You may select a faster speed to bring out a silhouette of your SPOI or a slower one to bring out more details in your SPOI. In some instances, strobe light may properly expose a SPOI. You may need to aim a second strobe at the secondary subject depending on the desired effect.
Before pressing the shutter release, double check on your composition as the placement of a SPOI becomes paramount and must be selected to produce the strongest image. If possible, make test exposures and consider any changes arising from the resulting photograph.
Depth of field
Depending on the specifics of your image, you may want the main subject and the SPOI to be in focus. This is common in wide-angle images. Depth of field then becomes critical.
Selecting smaller apertures brings good results. Do not hesitate to stop down to f/11 or f/16. It's possible that diffraction may degrade your image, but it becomes necessary to achieve the goal you have in mind. And honestly, very few people will notice it unless they are pixel peeping on a 50" screen!
It pays to experiment with your setup to find out how to achieve the best subject distance vs. depth of field choices to see what produces the optimal image. You don't need to be in the field to do that, jump in a pool with some props and make tests exposures. Experience will tell you what works best.
Of course, in macrophotography or fish portrait, having the main subject and a SPOI in perfect focus is not always possible or necessary; after all, you cannot change the laws of physics.
Just do it!
Having a SPOI in an image (or even more than one) often provides a better result. You may task yourself to shoot only such images during a dive. A little homework will increase your confidence level.
And remember, in the case of wide-angle, look up. This shall open the background and your mind, too.
Happy bubbles.