Hi all you wonderful divers out there, if your eyes are a window to your soul then a divers mask is double glazing and there are countless diving masks out there.
Now, I've tried out a lot of masks in my tenure and there have been some cool ones released in 2022 so, I've picked out my own personal top 10 diving masks in ten categories.
Watch Video
I'm sure you'll let me know what you think down in the comments but, lets dive straight into the first mask.
Prescription – TUSA Freedom Ceos
If you need prescription lenses to see underwater and you have a fairly simple prescription then the Tusa Freedom Ceos is a lovely mask. Both lenses are the same shape, just rotated and the mask can be disassembled with very basic tools.
That means that you can swap out the lenses to a range of stock prescriptions that can correct the Spherical reading on your prescription.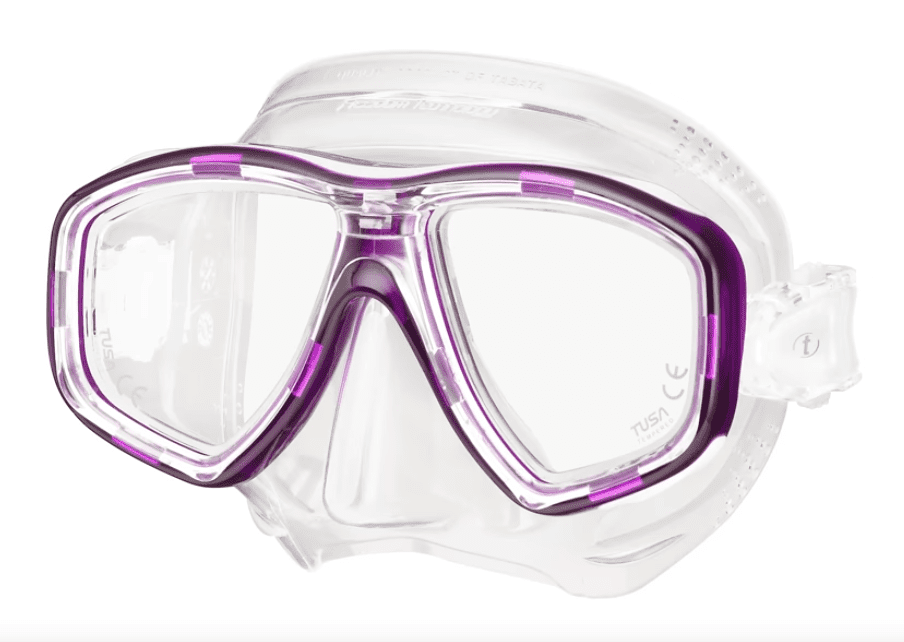 And the mask itself is stylish and comfortable. A lot of prescription masks are often bulky but the Ceos has a flare to it and the Freedom in it's name is for the Freedom silicone skirt that has special dimples at the temple and cheek bones that allow the skirt to mold to your face shape better.
If you have a relatively simple prescription, then the Ceos is a great mask to help you out.
Budget – The Cressi F1 Decent Diving Mask
If you're on a budget but, you want a decent diving mask then the Cressi F1 is a great mask. Nothing overly fancy but, neither does it look or feel cheap.
The F1 is a frameless single lens mask in a range of colours with decent buckles and micro-adjustment silicone strap.
Cressi have been making scuba and snorkeling equipment for generations so they know what they're doing when they're making masks
So, if you're just starting out and don't want to drop too much cash on your first gear but still want a decent mask or you want a decent backup mask without spending too much the Cressi F1 is widely commended as a really good mask at a reasonable price.Advertisements
Apnea – The Mares X-Tream
For freediving you want the smallest internal volume so it's the least affected by squeeze as you dive down so you don't have to exhale and waste your breath and the new Mares X-Tream mask which is made to be as minimalist as possible.
Similar to the Viper Mask before it, the X-Tream is made to hug your face for a minimal internal volume and a hydrodynamic profile.Advertisements
With that low profile design it brings the glass lenses closer to your eyes so that despite their small size, they're maximizing your filed of vision so that you don't have tunnel vision.
The strap design also has a built in snorkel keep to hold the top of your snorkel close to your head so that it doesn't wiggle around so, for apnea freediving that doesn't have an angry face, because quite a few apnea masks make you look a bit angry, take a look at the X-Tream
Fog Free – Cressi Quantum Mask
If you find that your mask keeps fogging up all the time then the Cressi Quantum mask has dedicated features to help prevent that.
Using the same second nose seal as the Calibro mask, the Quantum has an extra section of silicone around your nose that help prevent warm, humid air from your nose flushing over the lenses when you clear your mask. It still equalizes a mask squeeze, but it helps prevent that moist air from fogging up your mask.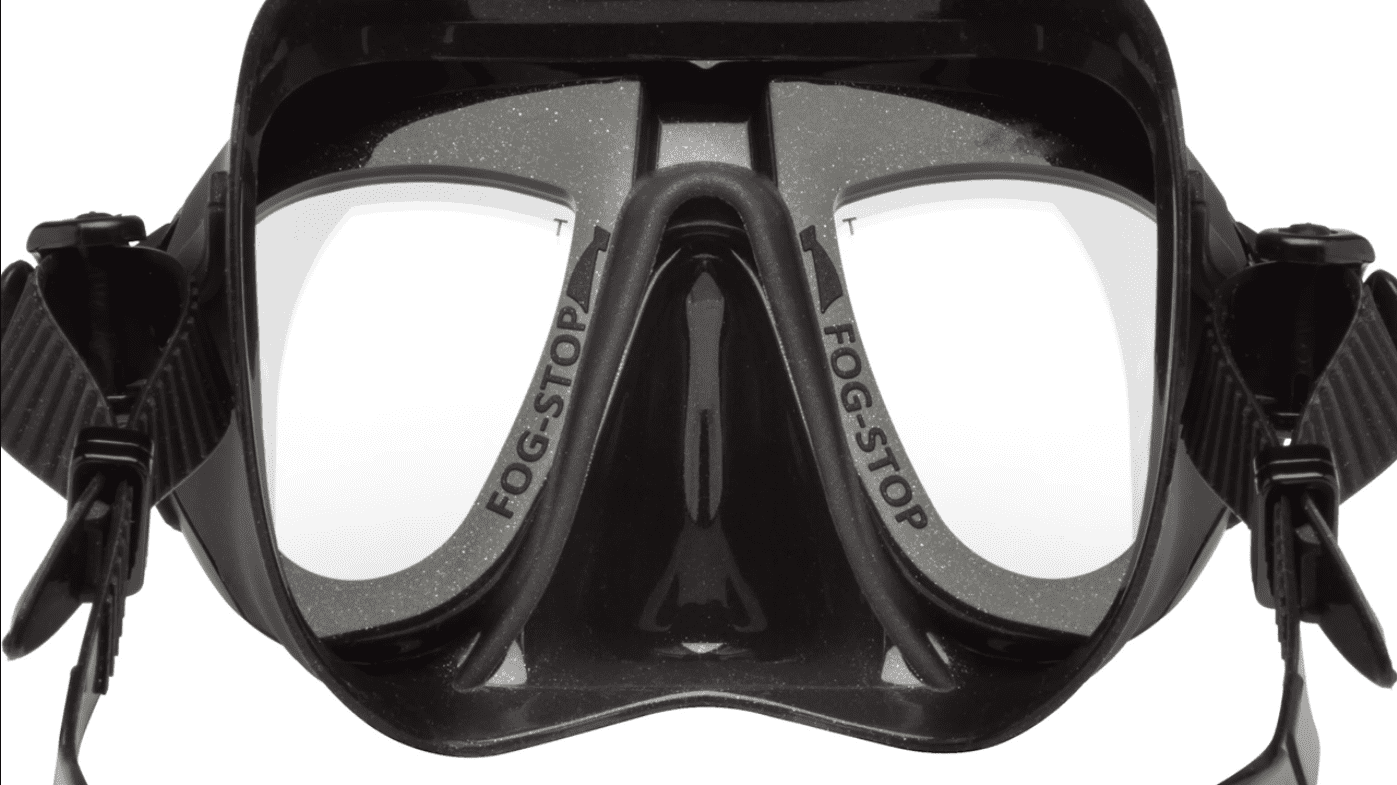 The Quantum also has a heat exchanger built into the silicone skirt that helps to cool the mask down and keeps the moisture in the air instead of condensing on the glass. You still need to prepare the mask as like any other but, the Quantum really boosts the effect and is specifically designed to prevent fog so you have a crystal clear dive all the time.
Facial Hair – Atomic Venom Frameless
If you're a bit like me and you have a scruffy face that isn't the smoothest sealing surface for a mask seal then Atomic Venom Frameless is a great option. The sealing surface around your face is made with an especially soft silicone blend that they affectionately call the Gummi Bear UltraSoft seal that can wrap around facial hair more than traditional silicone and seal a bit better. It's tough to get a 100% seal, but the venom frameless is one of the best out there.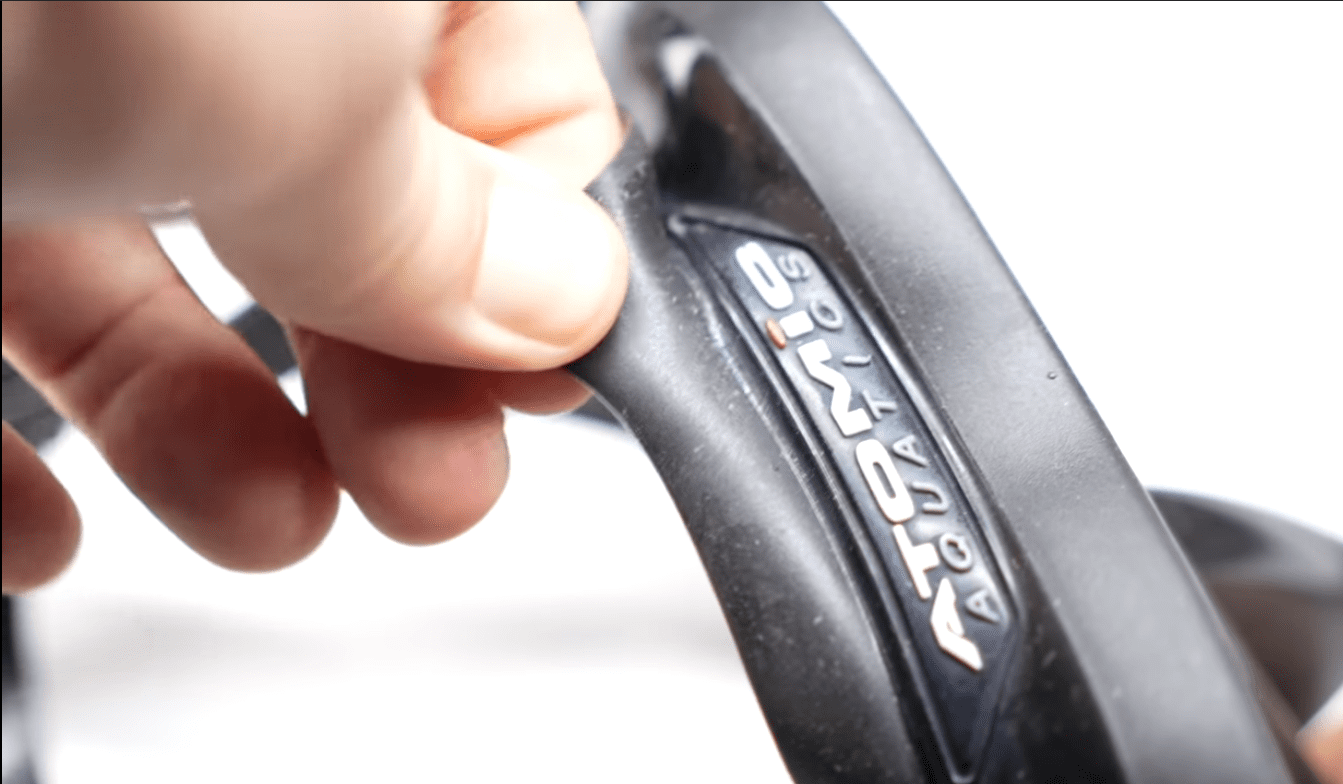 Advertisements
And as with all Atomic masks you're getting premium materials and build quality. The glass lens is Schott Superwite™ UltraClear that has fewer impurities and allows for greater light transmission compared to other glass lenses. So, if you do have a fuzzy face like me and shaving your top lip is not an option for you, then the Venom Frameless should help you keep the water out.
6. Mid-Range – Apeks VX1 Sits
If you want to invest a bit more on a decent dive mask but you don't want to go crazy then the Apeks VX1 sits in a really nice price point.
Starting off you get a better zippered mask case to look after your mask between dives which is just nicer than those clunky plastic boxes you normally get, and it also comes with a neoprene mask strap so you can pick and choose which you prefer to dive with.
The VX1 frameless design suits most faces and comes in the classic black, grey and white as well as some new brighter orange colours which are pretty funky if orange is your accent colour to match your orange RK3 fins.
But, for the quality and what you're getting you could normally expect to see some bigger numbers on the price tag. From the outside it may look like many other masks but it's little details like the metal barrel in the buckle and clever skirt design that really make it worth the price you pay.
All-Rounder – New Fourth Element Scout Mask
For one mask design that does the most, you've got to hand it to the new fourth element Scout Mask. The single mask design has four different lens options. Now, it's not unusual for some masks to have a standard version and a UV version for sunny climates.
Advertisements
But, the Scope has a pure glass lens for photographers, a UV lens to protect your eyes from harmful UV rays.
One lens that specifically cuts out some green wavelengths of light for diving in fresh, green waters and another that is better suited for blue waters to boost contrast.
All of those choices and a modern elastic fabric strap and you can choose the lens coating that suits your diving style. The only down side is that you can only have one of those treatments at a time.
Women – The Scubapro Synergy Twin
A lot of modern dive masks you can now honestly call unisex but one of them that I wanted to highlight is the Scubapro Synergy Twin because it has Scubapro's TruFit skirt that has ridges all around it for a great combination of thin silicone so that the skirt can mold to the contours of your face and thicker bars that maintain the masks shape.
Another great feature is the comfort strap. One of the most annoying parts of a mask if you have long hair is the ratchet silicone strap because it tangles in your hair but, with an elastic fabric strap, there's no sticky silicone or buckles to catch your hair.
It does have silicone details to hold it in place but gone are the days of your hair getting tangled up in your mask strap.
Large Noses – Zeagle Scope Mask
If you struggle to find a good mask that fits you because of your nose, then the Zeagle Scope mask has one of the largest nose pockets out there. The scope actually has two versions a mono and dual lens option but they both have larger nose pockets to accommodate any nose size comfortably.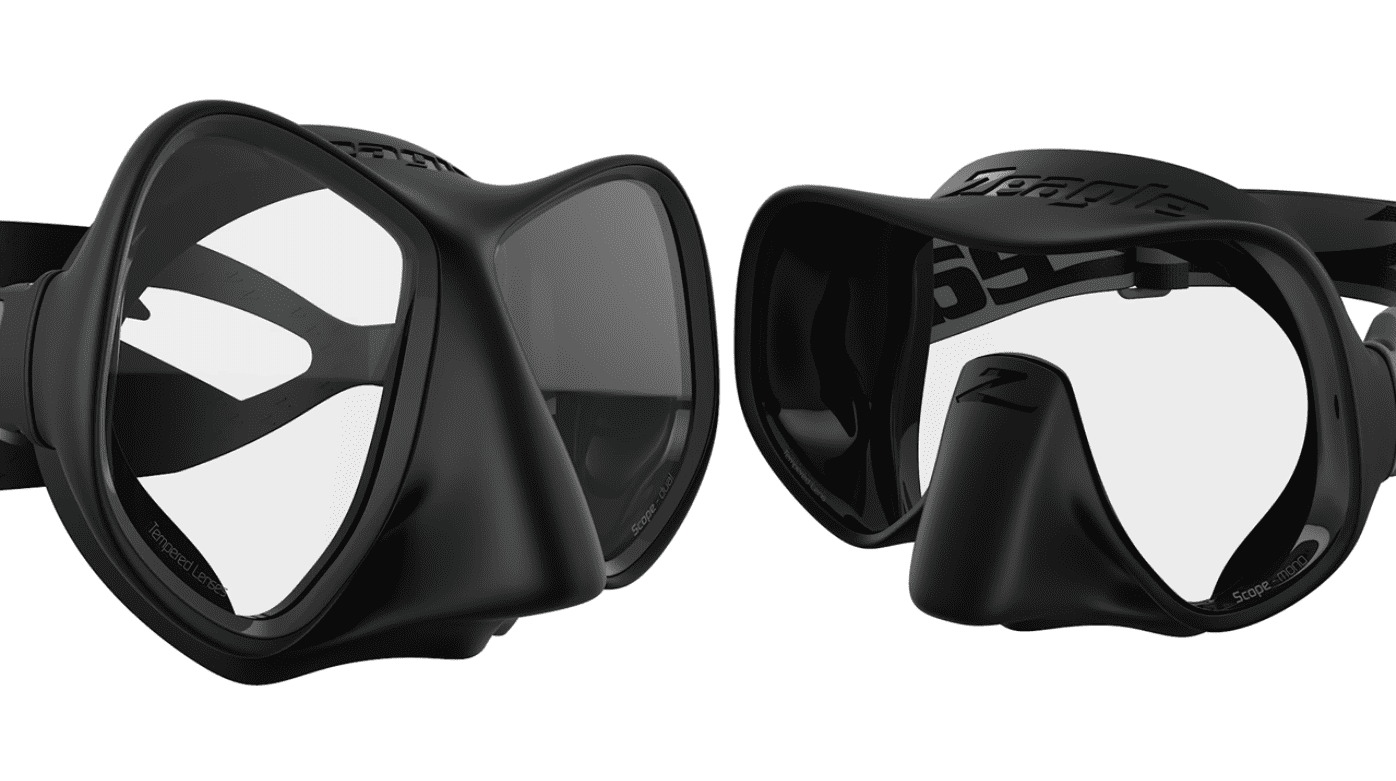 Frameless, the scope has a relatively low internal volume with huge glass lenses for a wide field of view.
The mask strap is also one of those elastic fabric straps. You do have the option for a traditional silicone strap but, I am a fan of the new fabric straps, they're stronger when damaged and if you're not diving with a snorkel, they're much more comfortable and secure on your head.
Retro – Scubapro Gorilla Frameless Mask
Now, I'm a sucker for the classic scuba diver square diving mask, not so much the oval, that's a step too far for me, but I do like the modern Scubapro Gorilla frameless mask.
It's a timeless design that suits most divers and while yes it does have a Scubapro S front and centre, the gorilla is slightly larger for a wider field of view compared to the standard version and if you're like me then larger masks just suit you better.
The Gorilla also has a less Gucci, matte finish unlike the standard gloss finish you find on a lot of masks. Modern soft silicone, dual seal skirt is just as comfortable as any other modern mask with a high-impact polycarbonate frame for strength and durability the Gorilla Frameless is a modern classic.
And there we have it, ten of my favourite masks right now. A link will just have popped up here in the corner to one of our affiliate dive stores if you want to get your hands on any of these dive masks.
Remember to subscribe to the scuba diver magazine channel and if you have any questions about any of these diving masks or others that you've seen around pop them down in the comments section under this video. Thanks for watching everybody and safe diving.