Dive Against Debris – 22 June 2023
In the spirit of doing things differently, we committed to submitting monthly data to Project Aware's campaign – Dive Against Debris database, to enhance the underwater insights into a problem that remains out of sight for most of the public. This data will help identify target areas where waste prevention efforts are needed most.
Dive Site: ADS571 – Saonek Monde
Date: 22 June 2023
Total debris Collected: 15 kg
76 – PLASTIC MATERIALS
15 – GLASS & CERAMIC MATERIALS
10 – METAL MATERIALS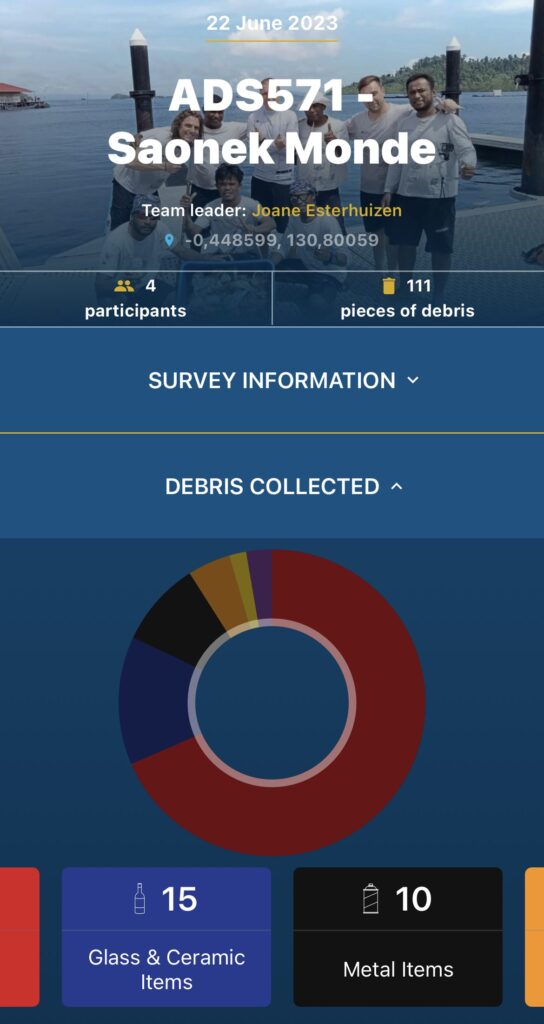 05 – RUBBER MATERIALS
02 – CLOTH MATERIALS
03 – MIXED MATERIALS COLLECTED
WHAT WERE THE MOST PROBLEMATIC DEBRIS ITEMS IN YOUR LOCATION?
Plastic Cups, Fishing Lines, Plastic Bags
Raja Ampat is the epicentre of marine biodiversity and attracts dive enthusiasts, snorkelers and adventurists worldwide. However, the island's location and currents make Raja Ampat a trap for artificial waste caused by the increasing population internally and in neighbouring countries, as well as poor waste management and treatment practices.
About Meridian Adventure Dive
Situated in Raja Ampat, Indonesia, Meridian Adventure Dive is a PADI 5 Star Resort and winner of the PADI Green Star award. Scuba divers enjoy our professional services that have become synonymous with both the PADI and Meridian Adventure names.