Colombian freediver Cristian Castaño Villa has been bitten by what was reported to be an oceanic whitetip shark, while he was depth-training near the southern Caribbean archipelago of San Andrés, Providencia and Santa Catalina.
The incident occurred at around mid-day on 18 July at a dive-site called Nirvana, but the freediver survived the encounter to the extent that he later posted a photo showing his bandaged leg and hands with the boast: "They should see how the shark turned out!" 
Castaño, 38, has claimed 25 Colombian freediving records. He is currently rated by governing body AIDA as second nationally in the Constant Weight with and without fins disciplines, and third using bi-fins, in Free Immersion and in Static Apnea. A member of the national team, he had been in training off San Andrés for the CMAS depth outdoor world championships in Roatan next month.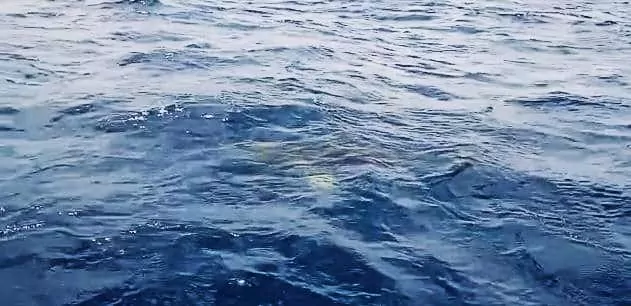 Castaño and his fellow-freedivers had been surprised to encounter several oceanic whitetips, according to Coralina, the Colombian agency responsible for sustainable development of the archipelago, which is a UNESCO biosphere reserve covering the three islands, five atolls and coral reefs.
"One of the sharks bit – out of curiosity – one of the freedivers," it reported, paying tribute to the quick reactions of its local staff in effecting a rescue.
It reported that Castaño had remained conscious and was able to use his limbs following the bites, including pulling himself back onto the dive-boat and climbing an exit ladder. Taken to hospital on the mainland, he was stitched up without complications and discharged that night.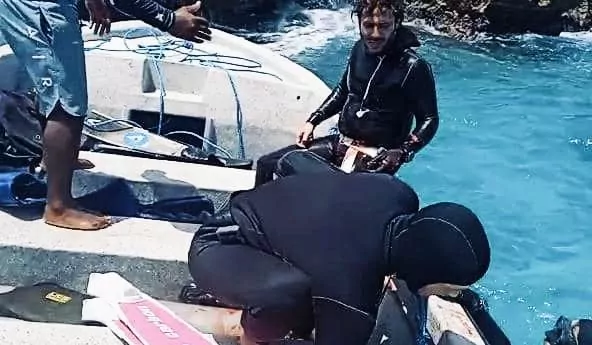 There is however a possibility that human intervention has affected shark behaviour in the area. In March 2022, Italian swimming instructor Antonio Straccialini, 56, died at San Andres after a 2.5m tiger shark bit his leg. The fatality had prompted Coralina to warn local tour operators to stop dumping animal carcasses in the sea to attract sharks for visitors. 
"It is important to remind the community that sharks are in their natural habitat and it is humans who enter their domain – so there is a need to have greater respect for nature and take precautions against such encounters," said Coralina following the recent incident. 
And the agency went even further in defence of the animals by adding: "Let's also remember that sharks are protected by national and local regulations, and anyone who is caught trying to attack them may be subject to environmental and judicial sanctions, extending even to prison sentences."
Galapagos knee-bite victim recovering
On 4 July holiday-maker Delia Yriarte, 42, from San Jose, California, was swimming off the small island of Mosquera in Galapagos when she was bitten by a shark above and below her right knee. She reported what had felt like a blow and was aware that she was losing a lot of blood but, with her leg simply feeling numb at that point, had managed to swim back to shore.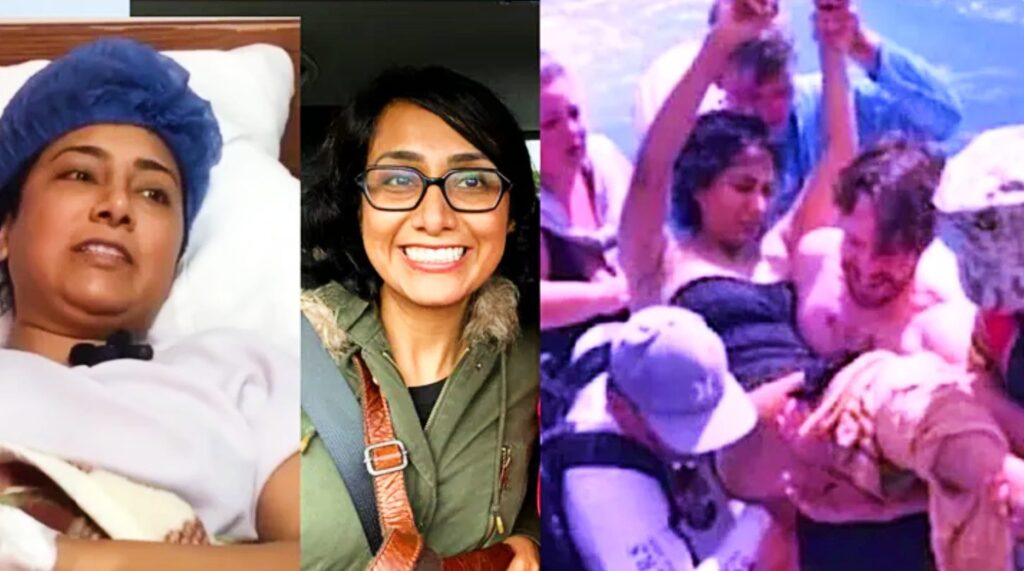 Taken to hospital on Santa Cruz Island, Yriarte underwent surgery involving five tendon repairs and more than 100 sutures that was said to have saved her leg. She was later transferred to San Cristobal Island before being flown to the Ecuadorian mainland.
She was told in hospital there that she should regain use of her leg, although her recovery was likely to take several months and involve further surgery, skin grafts and physical therapy. She was also told that the shark had probably been a blacktip reef or grey reef shark.
A friend started a GoFundMe page to help the single mother get back to her 15-year-old daughter in the USA. Aiming to raise US $20,000 to cover her medical expenses and lost pay while off work, to date it has raised $11,250 from 132 donors.
Alligator grabs snorkeller
A 2.5m alligator bit a male snorkeller in Florida on 17 July, leading to the closure of Alexander Springs, a designated swimming area in the Ocala National Forest. The US Forest Service (USFS) attended the scene and said that although the man had suffered puncture wounds and lacerations he was treated by the forest operator Adventure Ocala and had been able to take himself to a local medical facility for further attention.
The Florida Fish & Wildlife Conservation Commission removed the male alligator, which was described as "aggressive", and was carrying out an investigation. It is alligator nesting time in Florida during July, although it is the females that are seen as more likely to cause problems for humans, because they are hungrier and more active than usual while protecting their eggs and newly hatched young. 
Also on Divernet: 'Freak event': Snorkeller plays down shark bite, Does fewer shark bites mean fewer sharks?, UK diver's shark death classed as 'provoked', Snorkeller loses foot to shark in TCI