Scuba-diving groups needing to stay in touch or locate each other in an underwater emergency can struggle in lo-vis conditions, but researchers at the University of Washington reckon they have found a solution. It takes the form of what they describe as the first underwater 3D-positioning app, for use with water-resistant smartwatches and other mobile devices.
It requires a group of at least three divers equipped with the devices, and for them to remain within 30m of each other. The devices' existing speakers and microphones can then be used to send acoustic signals and contact each other, while the timestamps estimate distances so that the app can track each diver's location relative to the dive-leader. Other divers can join the network, so long as each one remains within 30m of another. 
Using the app with depth-tracking devices such as the Apple Watch Ultra or the Garmin Descent, the system can locate the divers' formation in 3D.
"Mobile devices today can work nearly anywhere on Earth," said lead author Tuochao Chen, a UW doctoral student in the Paul G Allen School of Computer Science & Engineering. "You can be in a forest or on a plane and still get Internet connectivity. But the one place where we still hadn't made mobile devices work was under water. It's kind of the final frontier."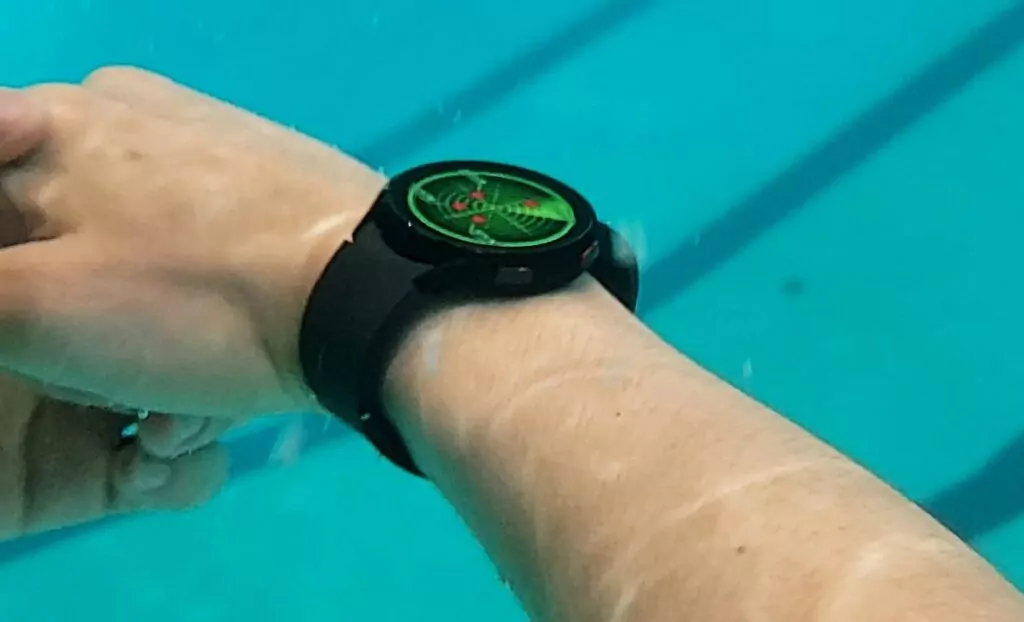 Above water, GPS relies on a vast satellite network to locate mobile devices with radio signals, which quickly fade under water. Although sound travels faster and further in water than in air, previous attempts to create underwater positioning systems had relied on expensive and impractical systems of strategically placed buoys, but the UW team says its system dispenses with the need for external set-ups.
How accurate is it?
The app's accuracy improves as more devices are added to a group, say the researchers. Testing four to five devices in lakes and a pool, it was found to estimate locations with an average error of around 1.6m – close enough for divers to see each other in all but the worst visibility. 
To obtain actual GPS co-ordinates for each diver, the dive-leader would need to be wirelessly connected to a surface device on a boat with GPS capabilities.
The study builds on a previous breakthrough from the researchers' laboratory called AquaApp, which allows divers to send messages to each other under water, as reported on Divernet last September.
"This and AquaApp can be used together," said author Justin Chan, a UW doctoral student in the Allen School. "For example, if the dive-leader finds someone going the wrong way, the leader can send an alert: 'Hey, you're going out of range. You need to come back.'" 
Chan also suggested that divers finding themselves running low on gas could issue an SOS to alert other group-members – who would be able to locate them quickly even in lo-vis conditions.
Prof Shyam Gollakota from the Paul G Allen School is a senior author on the study, research for which was funded by grants from the Moore Foundation and National Science Foundation. The team are set to present their findings at the SIGCOMM 2023 data communication conference in New York City in September, but the paper and the app's open-source code can be found on the team's website.
Also on Divernet: Garmin Descent G1 covers all the angles, Oceanic+ turns Apple Watch Ultra into dive-computer, DIVER TEST: Nautilus LifeLine GPS Personal Locator Beacon, Dive Like A Pro: How To Use A Compass For Navigation