Virginia's Lake Phoenix quarry is all about divers, with equipment rentals, tank fills and campsites with amenities, all on site.

Jennifer Idol
In addition to Atlantic wreck dives and nearshore diving around Chesapeake Bay, Virginia is home to Lake Phoenix Scuba Park and Family Campground. Formerly known as Lake Rawlings, this quarry lies nestled amid trees in the countryside about 60 miles southwest of Richmond. Visitors to Virginia can get away from the crowds for a relaxing weekend of camping and diving with good viz and top-notch facilities at Lake Phoenix, or mix it up with a day of diving staged from Norfolk, for a full weekend that includes beaches and national wildlife refuges.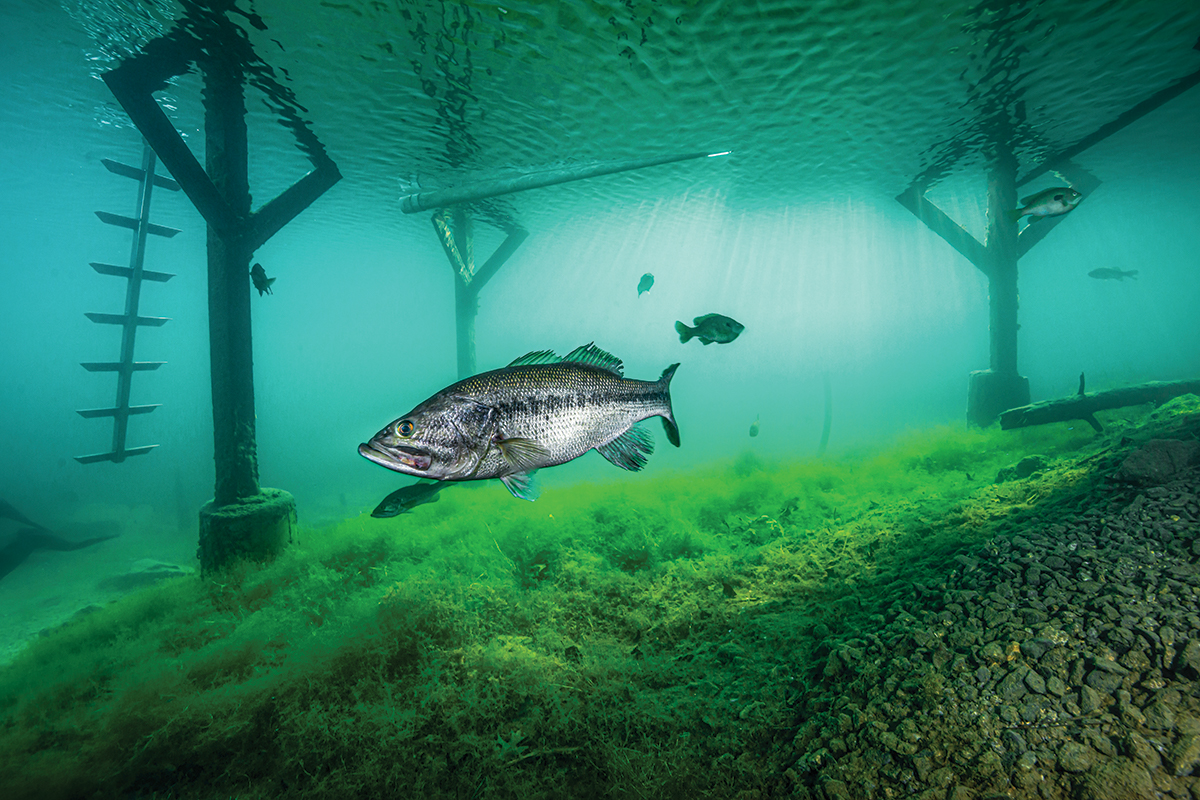 A fish swims through the Lake Phoenix quarry.

Jennifer Idol
Lake Phoenix is a complete experience in and of itself, with all necessities available on site, from dive equipment rentals and tank fills to camp sites with electricity. Clear water in this lake comes from an aquifer that was opened during quarry activity for the construction of the Chesapeake Bay Bridge-Tunnel. The water is filtered through granite, which creates a clear, fresh- water ecosystem that supports a variety of fish, including bass and sunfish.
Entry into the water is simple; divers can either walk in from the shoreline or giant stride from docks. The granite bottom minimizes silt complications from dive activity and makes this an ideal location for photography. Dozens of attractions include sunken boats, vehicles and even basketball hoops, though the quarry's highlight is a Black Hawk helicopter lying next to the docks. Numerous platforms also provide a reliable training environment.
Since there are few dive sites nearby, and even fewer that are open year-round, Lake Phoenix is popular on weekends, which can lead to sediment being stirred up in the shallow areas near the docks. Head to the far side of the quarry to experience the usual clear visibility and to navigate the natural bottom near the aquifer opening, though keep in mind the water temperature becomes very cold at depth. The entire quarry can be explored in a weekend filled with the camaraderie of new and frequent local divers.
Remarkable beaches and natural resources in Norfolk are just a two-hour drive from Lake Phoenix. From here, you can book local dive charters to explore nearby wrecks and marine life.
Dive Sites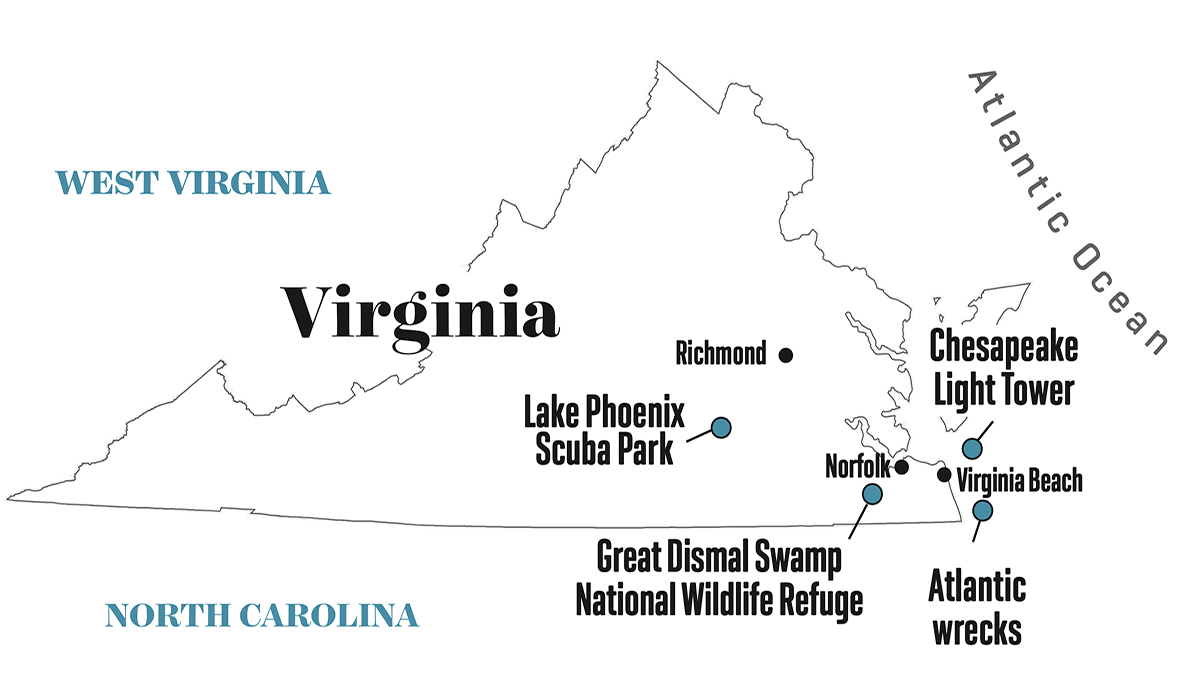 Explore the Virginia most never see at any of these top-tier dive sites.

PADI Staff
Lake Phoenix
Explore under the docks to find fish, especially nesting male sunfish in the spring. Spend a dive appreciating unique sunken attractions, including a decommissioned Black Hawk military helicopter sunk in 2011. The propellers and tail have been removed, and it's become a memorable swim-through.
Chesapeake Light Tower
Catch a charter with Lynnhaven Dive Center in Virginia Beach for some shallow diving at Chesapeake Light Tower, about 15 miles off the coast
of Virginia Beach. The diving is very similar to diving oil rigs in other locales. Spadefish school around the structure, and turtles often pass by.
Atlantic Wrecks
Lynnhaven also visits the exploded cargo ship Santore, an open-water dive at a max depth of about 60 feet. For more advanced dives, such as the popular Coast Guard cutter Cuyahoga, resting at about 120 feet, and the trawler Gulf Hustler, connect with Grand Adventure Charters in Virginia Beach. As always, proper training and equipment are required for wreck penetration.
Trip Tips
1. Pack a Lunch Although lunch services at Lake Phoenix are available on weekends, bring food to make the experience more convenient. Campers can also cook over fire pits at their campsites. Head for Richmond or Norfolk for the best dining opportunities,
2. Naval History Tour Built in 1917, Naval Station Norfolk, the world's largest naval base, defined regional maritime history. You can explore one of the largest battleships built during World War II, USS Wisconsin, at the nearby museum Nauticus. The museum also features exhibits about marine conservation and maritime commerce at the local seaport.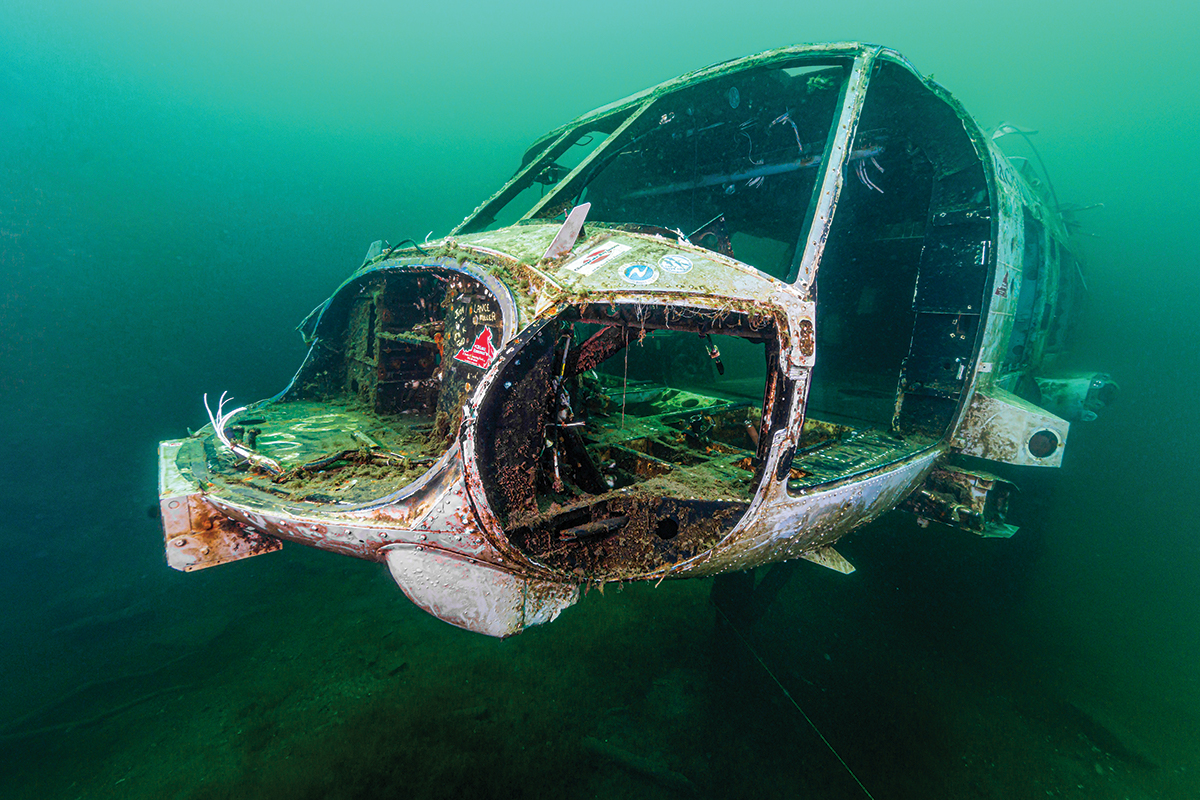 A partially-deconstructed military helicopter is a notable swim-through in Lake Phoenix.

Jennifer Idol
3. Great Dismal Swamp National Wildlife Refuge
Hike through a wetlands habitat surrounding Lake Drummond, one of two natural lakes in Virginia. A boardwalk trail provides a quick overview and opportunity to look for wildlife such as black bears, otters and beavers. Ancient trees are the highlight for landscape photography.
Need to Know
Conditions
Viz typically falls between 30 and 60 feet, with water temperatures around 50 to 75 degrees.
What to Wear
5 mm wetsuit or drysuit.
---