How many underwater photographers hold a Guinness World Record for their work? And why are STEVE HAINING and his crew getting set to shoot all over again – but five times deeper?
Canadian photographer and scuba diver Steve Haining is busy planning an underwater shoot with a model on breath-hold on a 30m-deep shipwreck in chilly Lake Huron this September. That's deep for directing models but Haining is unique in that he holds a world record for underwater photography – and the upcoming dive is designed to keep it that way.
He might have a world title to defend but it all started as a bit of fun during the Covid pandemic – and has remained just about fun, Haining will insist. 
As an independent professional he has garnered plentiful awards, not only in photography but in cinematography and film-directing. The 34-year-old started out a decade ago shooting rock stars for record companies and magazines before shifting into advertising and fine art photography – including spectacular landscapes shot around the world that command prices as high as $200,000.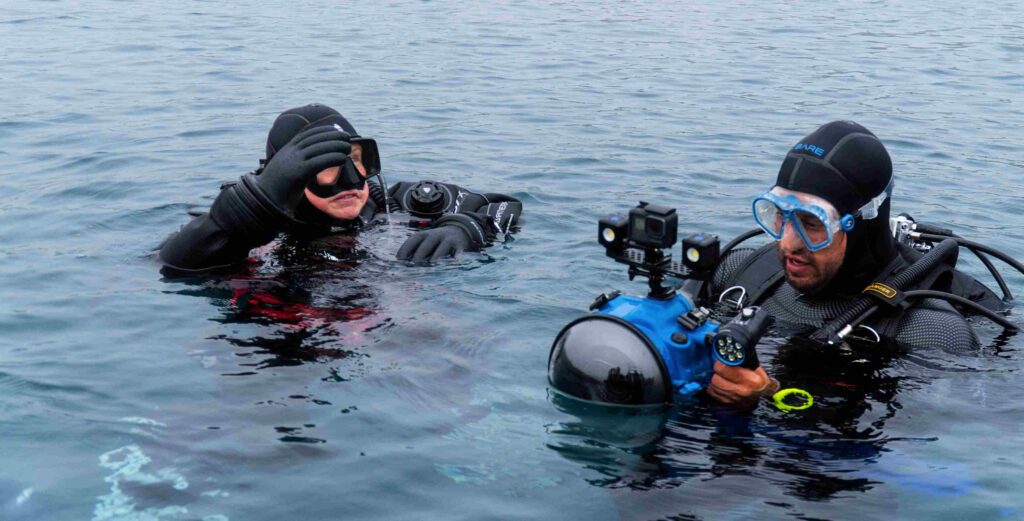 He has been working on the personal underwater project of recording iconic North American shipwrecks. He runs photography and film-making workshops in remote First Nations and Inuit communities, works in youth prisons, is a rock drummer and finds time for TV and documentary work.
His Guinness World Record for "Deepest Underwater Model Photoshoot" was set in June 2021. Haining and his crew had been joking that, with Covid protocols and the constant reminders to avoid "breathing in other people's airspace", their topside working life might be easier if they wore scuba gear. 
Haining had conducted underwater breath-hold model shoots before, but always in the controlled conditions of indoor pools. Caribbean open-water sessions had been carried out with the models in scuba gear. But the possibility of using a natural location with an unencumbered model had remained at the back of his mind.
Chilled-out model
Clearly nobody else had thought to apply for the "DUMP" record and jump through the hoops required to get it ratified. Haining, dive safety co-ordinator Mareesha Klups and his regular model Ciara Antoski won and still share it two years on – even though the wreck of the WL Wetmore on which the qualifying shoot was done lay at a relatively modest depth of 6.4m.
It was perhaps the chilled-out model who deserved most of the plaudits, for enduring Lake Huron water that averages 10°C in June dressed in very little on sessions lasting up to half an hour at a time.
Haining photographed her against the backdrop of three different wrecks before settling on the Wetmore steamer. She never felt the need to surface during any of the individual wreck shoots.
Klups had suggested the location, in Fathom Five National Marine Park near the Ontario town of Tobermory, described as the "Shipwreck Capital of Canada". The 65m Wetmore had been driven ashore on Russel Island in a storm in 1901 while towing two barges, and today is popular especially with newer divers. 
Though the wreck has largely collapsed, its boiler still stands 4.5m clear of the lakebed and the rudder, anchor and propeller and shaft remain photogenic features. Timbers remain well-preserved in cold Great Lakes waters.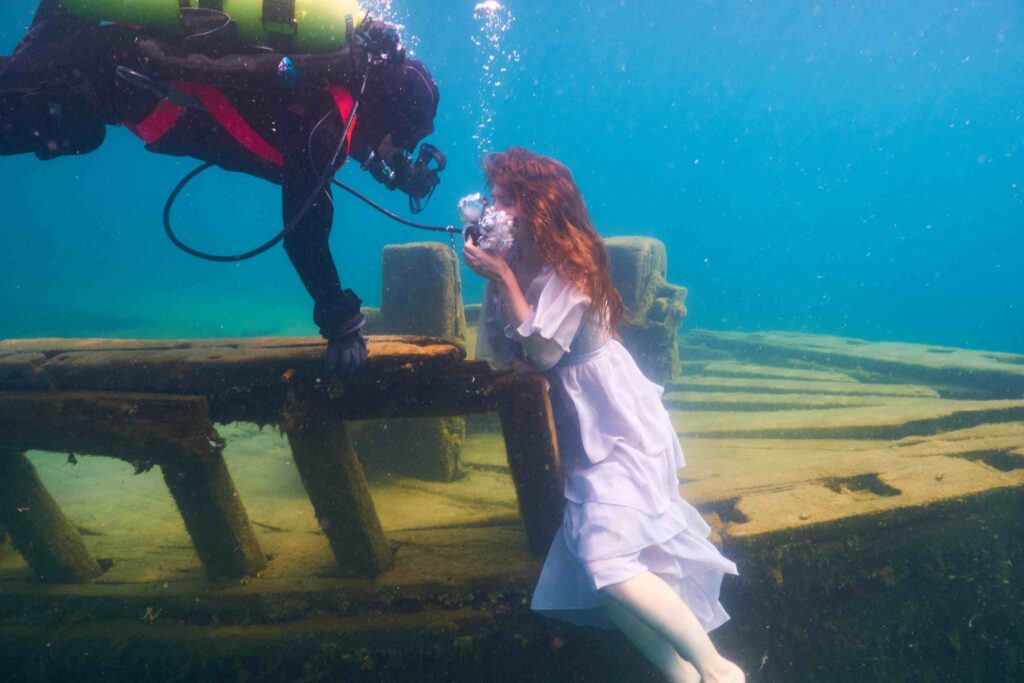 Antoski is now an Advanced Open Water Diver but she had to get used to posing without exposure protection or a mask while breath-holding in between inhalations from a Klups-donated regulator. During the build-up to the shoot, she had practised breath-holding in cold baths as well as indoor pools. 
The crew did some wet runs the day before the shoot and on the day itself, including on the nearby shallow wrecks Sweepstakes and Niagara II. A male model had also been supposed to participate, but he withdrew because of the challenging conditions while Antoski soldiered on. The qualifying session for the record took 16 minutes to complete.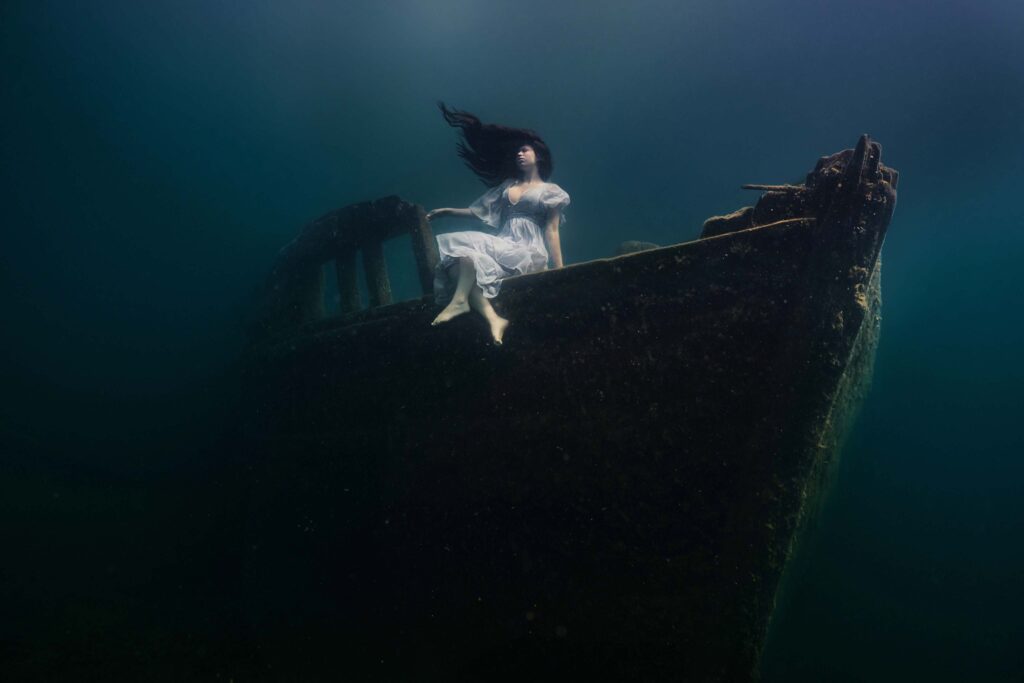 "The deepest selfie was taken beside the Titanic, but for us the deepest documented and recorded photoshoot for at least 15 minutes at depth and with a model staying at depth not in scuba is what got us the record," Haining told Divernet. 
Under the radar
World records like this often go under the radar – as this one seems to have done outside North America – until Guinness decides for whatever reason to showcase them on its website.
"Recently Guinness wanted to feature it and so did the big photography website Petapixel, so it got this weird resurgence of press, which is really cool," says Haining. "Funny for a shoot that was not really supposed to be anything except something fun during the pandemic.
"In regards to the next shoot, we're doing that mostly for fun as well – the record itself is secondary, and it always was. But the main reason to do it again is because we've spent years perfecting the process.
"The current record shoot we did at max depth was actually 35ft [10.7m] but because we only tracked and documented and had the charts for the dive at 21ft [6.4m], that's what Guinness used as the evidence for the record. So we wanted to do it again but document it properly." This time round, Guinness has been invited to send observers to attend the dive in person. 
A Guinness world record does require a considerable weight of evidence, something that has left plenty of contenders, not least in underwater bids, disappointed in the past.
It might seem that it wouldn't take too much for another underwater photographer to wrest the DUMP title away – after all, model shoots are being done all the time, especially with the rise in popularity of mermaiding, and usually in warmer water – but it would require considerable application.
"The new dive is more a personal goal than securing the record for myself and my team," says Haining. "I think records are meant to be broken, and I'd love to watch someone be inspired enough to make it happen – but the deeper you go, the more safety is extremely important."
Safety first
The photographer is keeping September clear for the extended record bid, and obtaining a nitrox qualification in good time to be accustomed to diving on enriched air by then. Using sidemount is also a possibility: "I'm a firm believer in always being a student!"
The two chosen locations will again be near Tobermory in the Fathom Five marine park, where Lake Huron meets Georgian Bay: "The two large water-masses create rough water conditions that historically sank a lot of vessels. We know the dive-sites really well there." Water temperature should be warmer than in June, though less so at depth.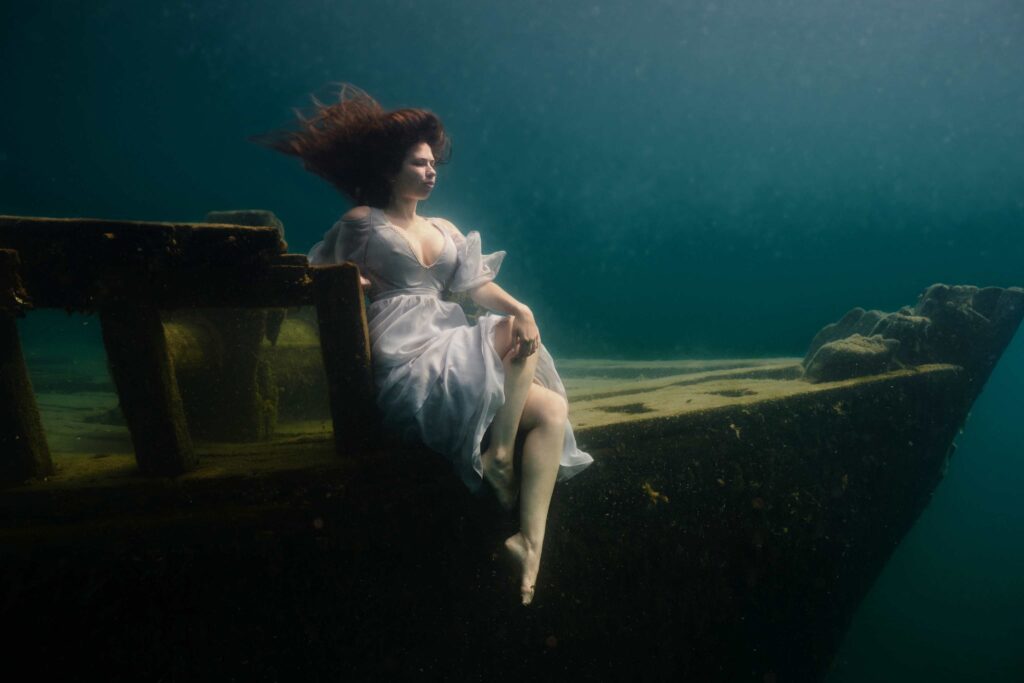 Permission is required to have models sitting on the wrecks at these locations, which are preserved by the Canadian government. "On top of safety, it's also about making sure you respect the area you're diving and leave it the way it was before you got there," says Haining.
The team will have to work at a depth of 30.48m (100ft) for an extended period. "To count as a 'photo-shoot' it has to have a bottom-time of at least 15 minutes with a production set-up, otherwise it would just be a photograph. So on both dives that we're recording, our baseline for the bottom-time is 20 minutes.
"Bearing in mind two decompression stops on the ascent, we do have some wiggle-room to extend that time, but that's where temperature comes into play too."
Because of Mareesha Klups' vast experience as a diving instructor and also a freediver, this time she will be the model. "Her breath-hold well exceeds six minutes, she is the main underwater escape act for Penn & Teller magic shows and she has already freedived both the record sites we have chosen in nothing but a bathing suit," says Haining.
"Her safety will be her business partner, who is just as qualified, and, because of the complexity of the wardrobe and the lighting at a greater depth, there will be four other support divers." Antoski will again be part of the team, but this time witnessing the action. Haining has also secured sponsorship, from Fujifilm, a fashion company and "a couple of dive dens".
Divernet will let you know whether the record bid succeeds. But it's clear from talking to Steve Haining that whether it does or not – and even if someone else should steal the record at some point – he won't be overly concerned because he has plenty going on.
In any case, he also has eyes on another prize, and this time it would be a world record in his name alone and one beyond Divernet's scope – for photo-shoot at the highest altitude. 
Also on Divernet: Freedivers seal longest underwater kiss, Mermaid at the Museum, Green hair? You should totally do this!', Mermaids highlight 10 NZ dive locations