Eight new world records, set by five freedivers at the peak of their powers, was the impressive tally at this year's Vertical Blue competition. No fewer than 38 national records were also set in the course of the nine-day contest for freediving's elite at Dean's Blue Hole in the Bahamas – almost two-thirds of them by female freedivers.
The AIDA-judged competition comprises four depth disciplines: Constant Weight (CWT), Constant Weight No-Fins (CNF), Free Immersion (FIM) and Constant Weight Bi-Fins (CWTB). Competitors are invited to challenge themselves on six official dives, and also to vie for the Vertical Blue Championship titles for men and women.
Day 1 saw Frenchman Arnaud Jerald, 27, break the CWTB world record with a 122m dive in 3min 35sec. His eighth CWTB world record, it was just 1m deeper than the previous one set two months ago in the Philippines by Alexey Molchanov who, to qualify for AIDA records, competes not as a Russian but as an International. 
Since 2019, when Arnaud set his first CWTB world record of 108m, the two freedivers have been chasing each other metre by metre. Last year Arnaud set three CWTB world records. Both, incidentally, use Molchanov bi-fins for their record attempts.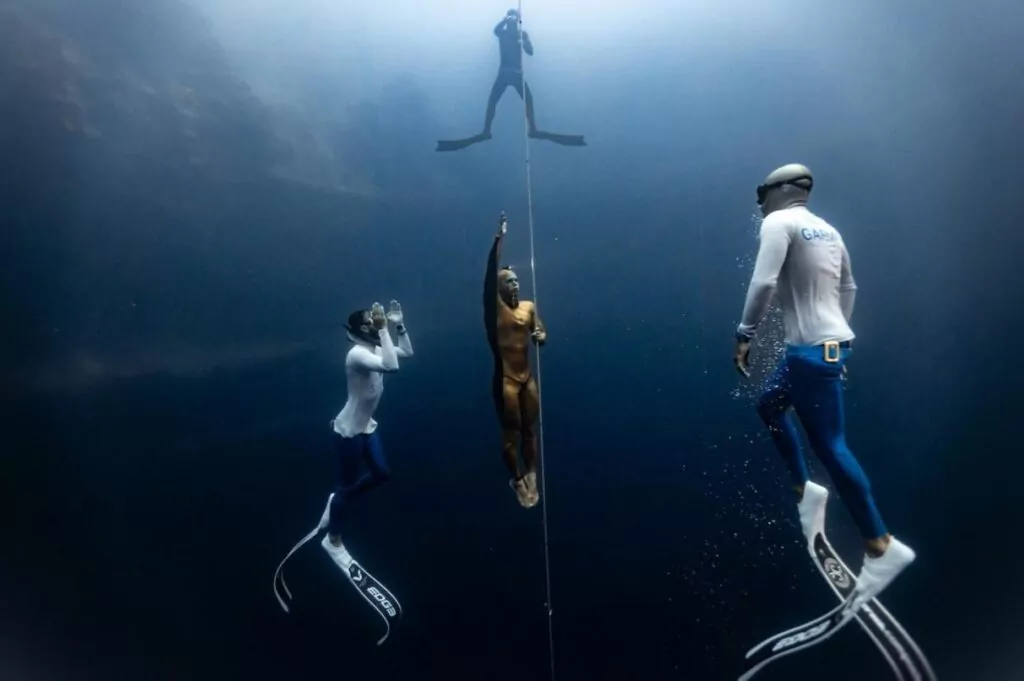 On day 2 Molchanov achieved an FIM dive to 133m in 4min 42sec, breaking by a cool 5m the recently set record of Petar Klovar. The Croatian was unable to defend it after being disqualified from Vertical Blue along with Vitomir Maričić because of alleged doping violations.
"Overall I felt strong, I felt clean as well but it's not my favourite discipline," admitted Molchanov, who prefers freediving with fins. And on day 3 he succeeded in his bid for a new CWT world record, achieving 133m in 4min 13sec. In this case he broke his own 130m record, set five years before at Vertical Blue. It was his 30th world record.
Women's worlds
The next world record came on day 5 when the women took over proceedings at the top level. Hungarian diver Fatima Korok smashed the FIM record of Netflix star of the moment Alessia Zecchini by no fewer than 4m, with a dive to 102m that took her 3min 52sec to execute.
Zecchini, who had taken the record three times in as many years and had held it for almost four years, had been unable to compete at this year's Vertical Blue.
Day 6 then became "overtake Alessia" day. Another big name, Alenka Artnik of Slovenia, equalled Zecchini's CWTB record of 109m, also set earlier this year, at Secret Blue in March. Artnik had previously held the record back in 2019 – when it was a mere 92m. On the final day Artnik aimed to win the record outright by diving to 111m – and she did just that and faster than planned, in 3min 37sec.
Artnik started freediving only when she was 30 – a decade ago. "I was in my zen – my zone the whole dive," she said after setting the first record. "I was surprised how amazing it felt." And, after the second: "I was ready to turn at 40m but then I relaxed into my freefall and thought 'let's go just a little bit further'."
Within the hour of Artnik's day 6 record, Kateryna Sadurska from Ukraine had followed up with a new CNF world record of 76m (3min 10sec) – and again it was Zecchini losing out, in this case by 3m. She had held that record since the 2018 Vertical Blue.
It was Sadurska's first world record, but the 31-year-old returned on Day 8 in a bid to go 1m better and hit the 77m CNF mark – which she did, in 3min 15sec. CNF is reckoned to be the most difficult freediving discipline, and Sadurska said she had been uncertain about whether she could even attend Vertical Blue because of the costs, logistics and dread of seeing conflicting opponents.
"I dedicate my dive to all the Ukrainians who are fighting for freedom on every level but especially our armed forces, who put their lives on the line to defend our country and give the rest of us an opportunity to live our lives – and who provide me the chance to continue my training process at home, in Kharkiv," she said.
"I had a conversation with Alessia Zecchini… a good friend of mine. Unfortunately she cannot compete for some time, but she wished me luck and to do the dive for both of us. And I did it!"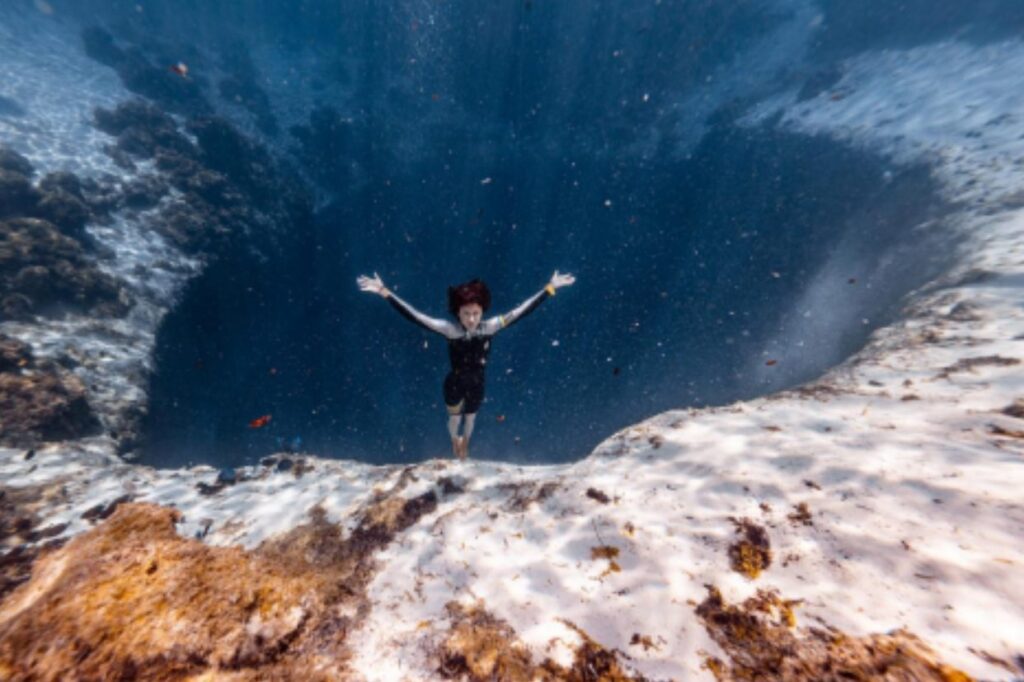 Besides the headlining world records, 38 national records were broken at Vertical Blue 2023, and female freedivers made their mark with 25 of them.
The big hitters were Mexican stars Pedro Tapla and Estrella Navarro with six records between them; Uruguay's Vanessa Estol with five; and Hungary's Fatima Korok and South Africa's Talya Davidoff, who each set four. Peru's Juan Valdivia broke three records, as did Taiwan's Wen Hsiang Huang and Hou I Ming between them.
With their high points tallies Tapla and Korok were declared overall winners of Vertical Blue 2023, which was sponsored by Garmin. Full details, results and video of the competition can be found on the official website.
Also on Divernet: World & GB freedive records set in Bahamas, Freediver Zecchini smashes bi-fins world record, New on Netflix: The Deepest Breath, No fins, 1 breath, 4+ lengths, 7th world record, British freediver breaks 15-year national record