Italian and French maritime archaeologists have joined forces to explore an ancient shipwreck 350m deep between northern Corsica and the Italian island of Capraia. The French team then moved on to investigate an equally deep Roman wreck off Corsica's east coast. The wrecks have been found to contain unusual varieties of amphoras – as well as large amounts of intact glassware.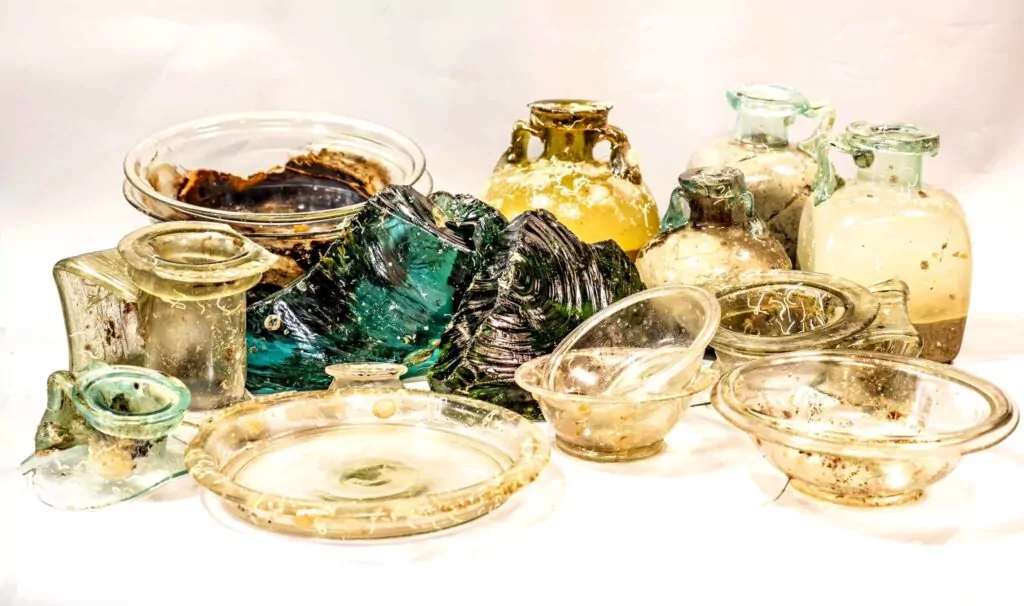 The first wreck, "Capo Corso 2" has been provisionally dated to around 1,900 years old, built around the turn of the 1st and 2nd centuries AD. The ship's cargo had consisted mainly of glass, much of it transported in raw blocks of various sizes, but there were also thousands of blown glass artefacts onboard.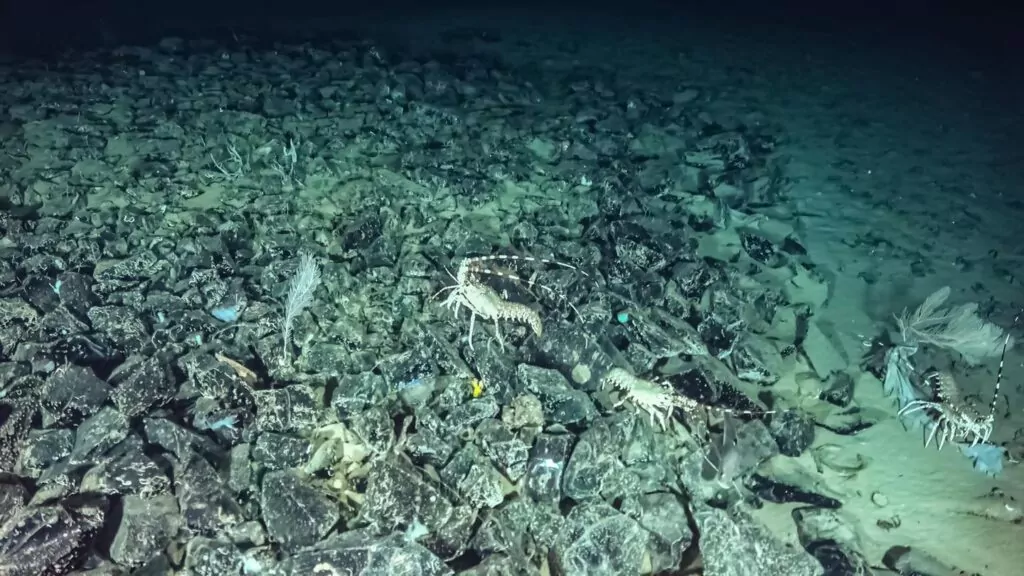 Capo Corso 2 was discovered in 2012, and over the following three years surveys and photogrammetry were carried out by French archaeologists. With negotiations continuing between France and Italy about territorial limits, it was eventually established that the wreck lay just inside Italian territorial waters, and from 2016 France expressed willingness to collaborate on a joint study project, which started last year.
The July 2023 expedition made use of the research vessel Alfred Merlin and its two ROVs Arthur and Hilarion, all provided by DRASSM, France's Department of Underwater Archaeological Research. 
Arthur, a lightweight, 2,500m-rated prototype robot built by mission participant Prof Vincent Creuze of the University of Montpellier-LIRM, is able to shoot high-definition video, blow or vacuum sediment and recover objects, while Hilarion also produces hi-def video footage but is limited to 500m depth.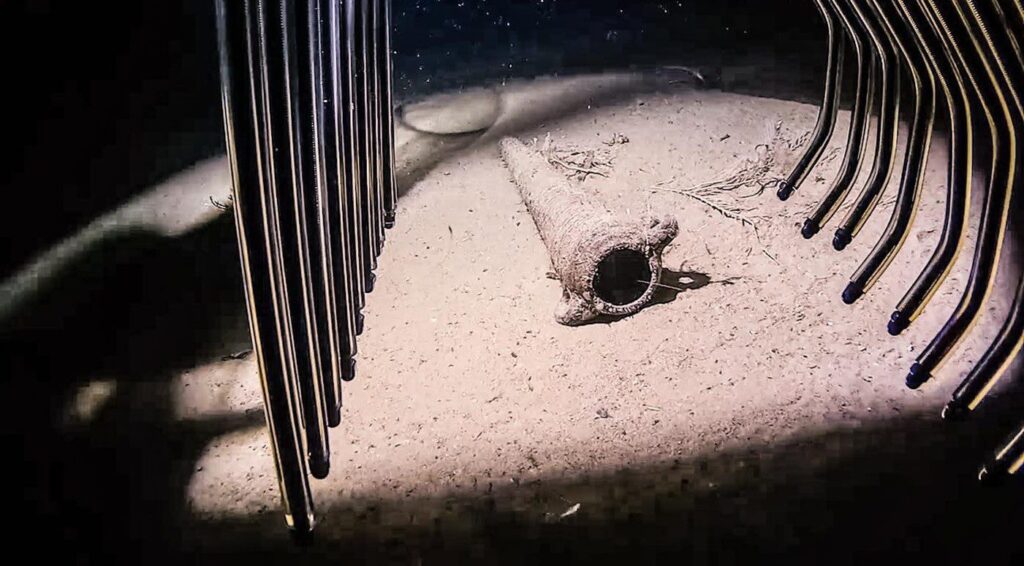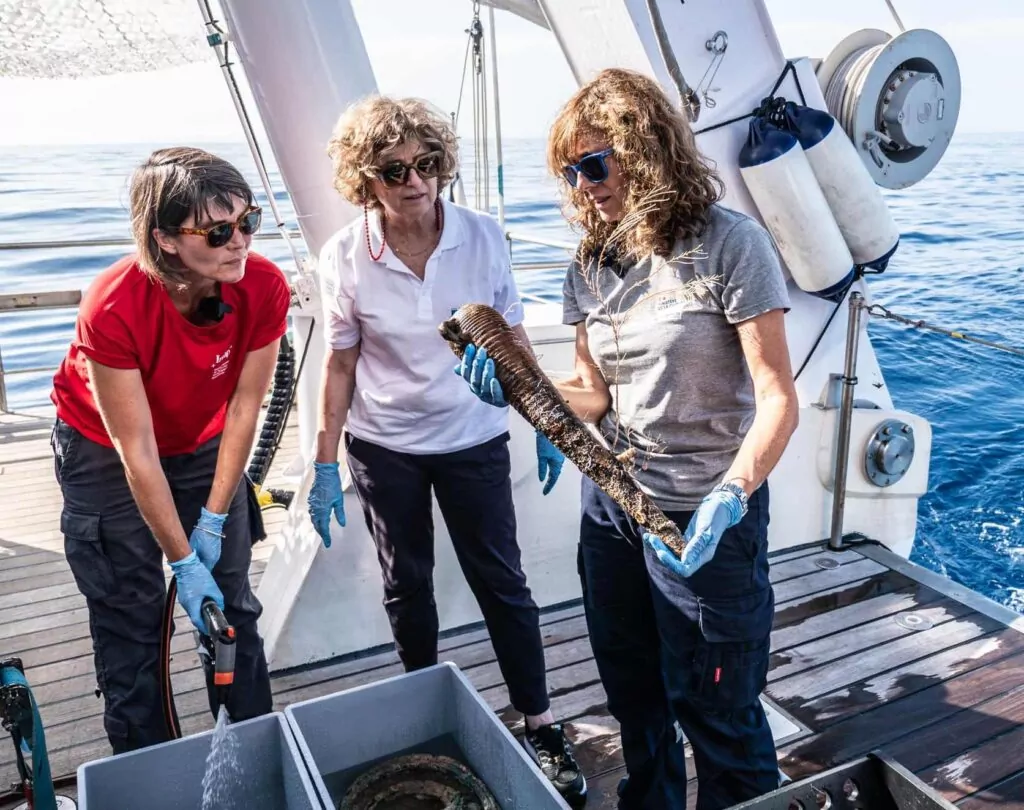 Raised for analysis
A new photogrammetric survey was carried out to check that the wreck had not been affected by human activities such as trawling, and the ROVs removed sedimentation in some areas before a selection of artefacts were recovered using Arthur's delicate claw system.
The haul included glass bottles, plates, cups and bowls as well as two bronze basins and some amphoras, all taken to Italy's National Superintendence laboratories for analysis and restoration.
The archaeologists are hoping to pin down the age and the route taken by Capo Corso 2 on its final voyage. At present the visible "carrot"-style and oriental amphoras and the quantity of glass vessels and blocks of raw glass lead them to believe that the ship must have come from a Middle Eastern port such as in what is now Lebanon or Syria and to have been heading west towards Provence in France.
The bilateral mission was co-ordinated by maritime archaeologists Barbara Davidde and Franca Cibecchini and their respective teams from Italy's National Superintendency for Underwater Cultural Heritage and DRASSM, along with ancient glass specialist Souen Fontaine of France's National Institute of Preventive Archaeological Research. 
In another departure, the archaeological research was conducted alongside marine-biological observation by ecologist Nadine Le Bris of Sorbonne University and France's National Natural History Museum, while Carlotta Sacco Perasso from Italy's National Superintendency studied biological colonisation of the glass artefacts.
The Aléria wreck
Later in the month the Alfred Merlin and Cibecchini's DRASSM team moved on to work on another 350m-deep Roman wreck, this one dating from about 130 AD and lying off Aléria in eastern Corsica. The two ROVs were once again put into action at the wreck-site.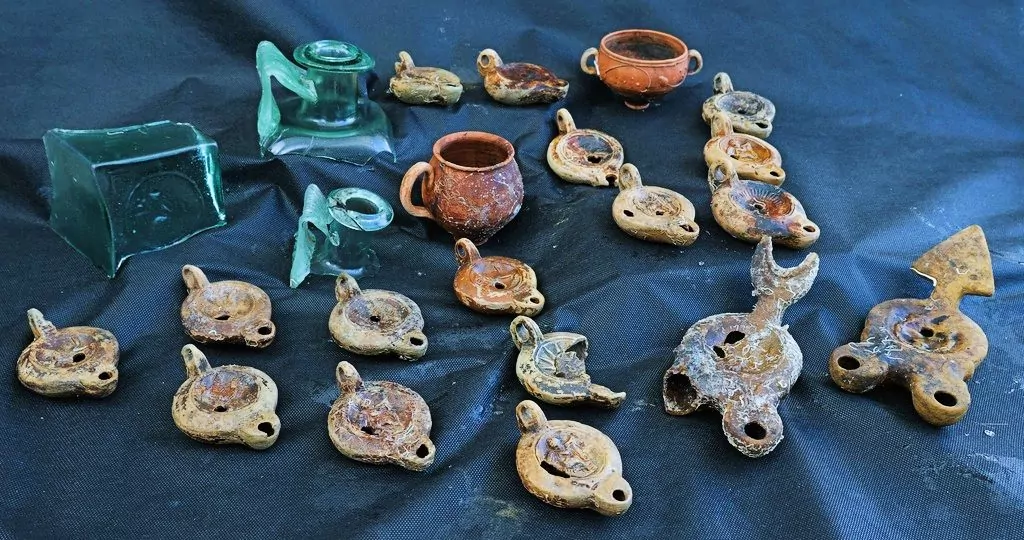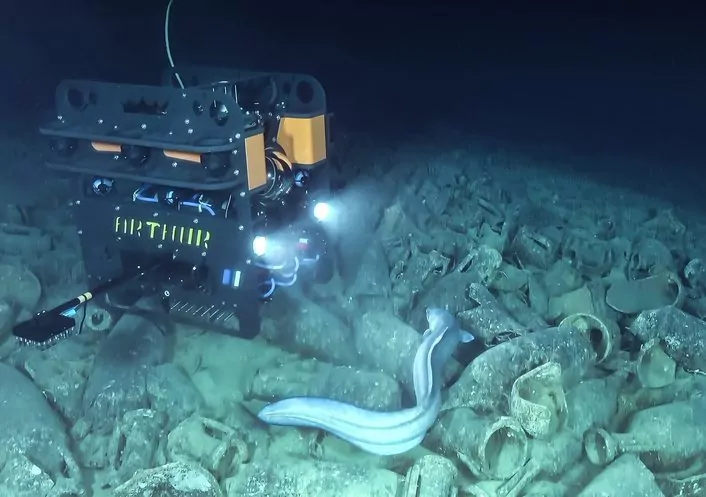 Full 3D imaging of the wreck was carried out before sediment was blown clear on several targeted areas to allow detailed 3D photogrammetry. The operation resulted in the discovery of new forms of amphora, oil-lamps bearing the marks of several manufacturers, ceramics and blown glassware, some of it still stacked. 
A number of artefacts were recovered, and the archaeologists say they will help in reconstructing the story of the ship, which they believe had been sailing west from Rome to Corsica. More than 50 items will eventually be displayed in the Archaeological Museum of Aléria following the restoration it is undertaking.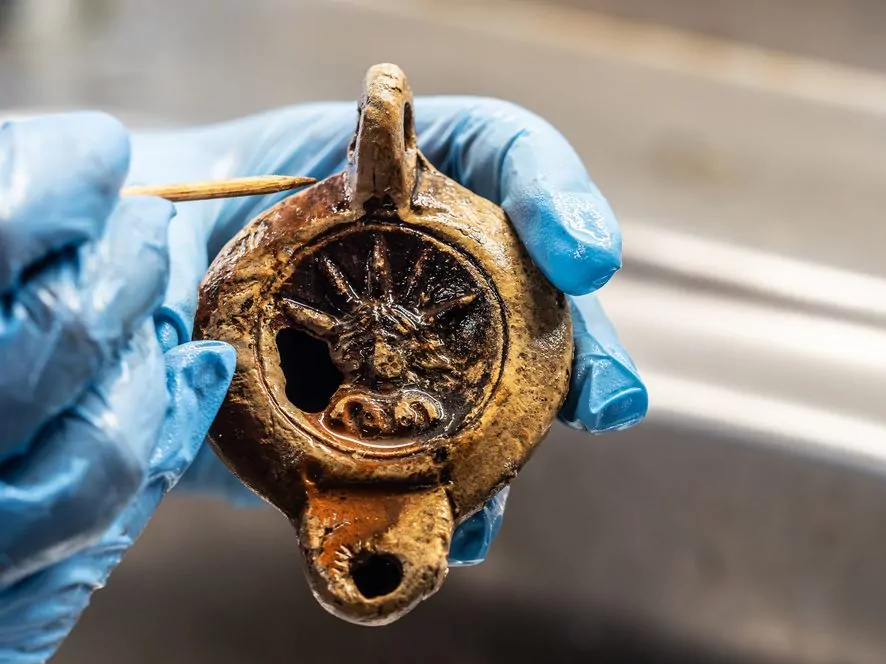 Plus: the ancient wrecks in diveable depths
In Greece a report has been issued on this year's scuba explorations of the celebrated Antikythera island shipwreck site in the Aegean Sea. Excavations began there 123 years ago, but new discoveries are still made every year.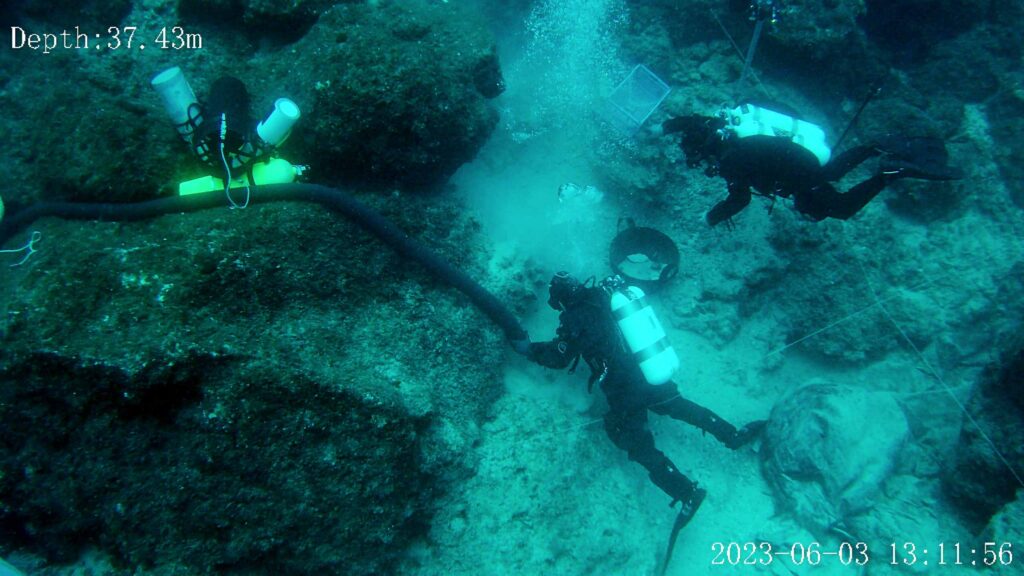 The archaeological team from the Swiss School of Archaeology in Greece and the University of Geneva worked on the site in May and June and say they found fragments of marble statues, pottery and glassware; copper alloy, lead and wooden elements of the ship; and human bones.
Other ceramics that were identified as from the early Byzantine era have suggested that a far smaller ship sank later at the same site. The original ship is thought to have gone down during a storm in the 1st century BC, while carrying luxury goods that included the early astronomical computer known as the Antikythera Mechanism.
Meanwhile Italian archaeologists have discovered another ancient Roman merchant shipwreck near the port of Civitavecchia, about 50 miles north-west of Rome – this one within scuba-diving depths at 60m.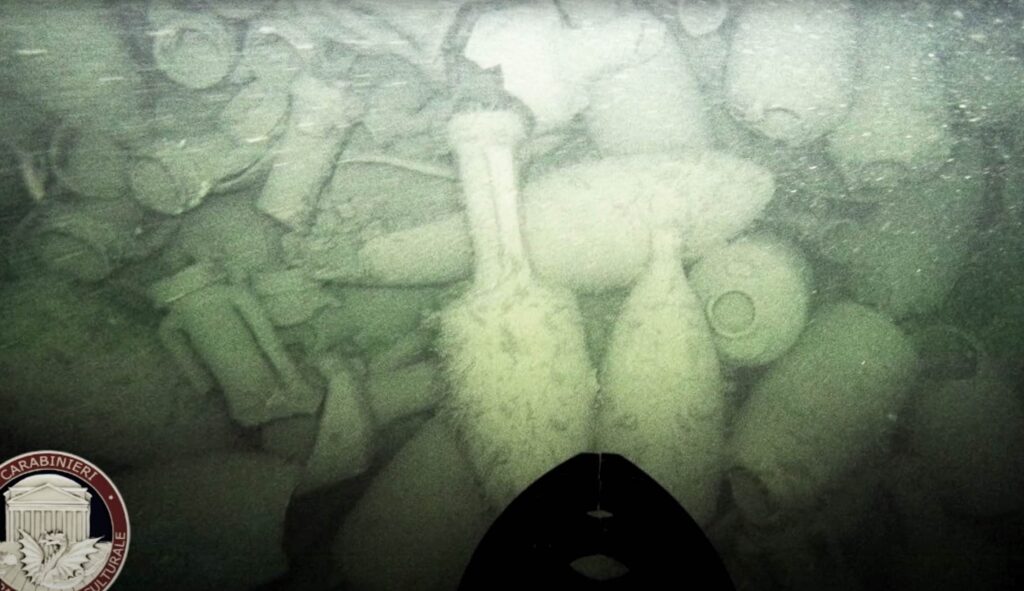 The 20m-long ship dates from the 1st or 2nd century BC and contains hundreds of mostly intact tube-shaped Dressel 1 B-type amphoras. It was found by an ROV on a sandy seabed, according to the Carabinieri Art Squad, which stated: "The exceptional discovery is an important example of the shipwreck of a Roman ship facing the perils of the sea in an attempt to reach the coast, and bears witness to old maritime trading routes."
Also on Divernet: Mine-clearance divers turn up ancient shipwreck, Divers set to lift Bronze Age 'sewn' boat, Divers uncover Stone Age road in Croatia, Free app samples Adriatic wreck dives, 5 bomber wrecks located, as AI learns to find more