Five-time Emmy-winning underwater cinematographer and film-producer Stan Waterman died on 10 August, at the age of 100. One of the earliest Americans to take up scuba diving, he was responsible for many diving firsts but will be remembered best for his work on the seminal shark movie Blue Water, White Death.
Stanton A Waterman was born on 5 April, 1923 in Maine. At the age of 11 while on holiday in Florida he was given a Japanese hand-made Ama face-mask, at a time before dive-masks were being commercially manufactured, and became absorbed in the underwater world. His parents were divorced but both had homes by the sea, in Maine and Delaware, and he grew up with a love of swimming and sailing.
His US Navy service in WW2 saw him stationed in the Panama Canal zone in 1943 where, with Californian freedivers in his squadron, he acquired a fins, mask, snorkel and speargun and took up spearfishing.
He graduated in English at Dartmouth College in New Hampshire in 1946, having studied under the poet Robert Frost. This set him up for the many articles and presentations he would go on to write – he would be described as a "born storyteller".
With his wife Susy he began working as a blueberry farmer in Maine. At the same time, inspired by diving pioneer Hans Hass's book Diving To Adventure and a Jacques Cousteau National Geographic article about cage-diving with sharks in the Red Sea, he became one of the first people to buy an Aqua-lung, along with a drysuit and compressor.
So equipped, he undertook a variety of underwater work such as recovering lost property and untangling boat propellers – services few other people were in a position to offer. He also enjoyed his first underwater experiences outside the USA, in Corsica in 1950.
First Bahamas dive liveaboard
In 1953 Waterman designed and built a 12m dive-boat that he later sailed to Nassau, where he set up the Bahamas's first liveaboard operation dedicated to diving. He ran this each summer, alternating with his blueberry business in Maine for the rest of the year, and went on doing this until 1958. 
During that time he taught himself cinematography. Shooting on 16mm film and building his own Plexiglass camera housings, he produced some of diving's earliest films, starting with his documentary Water World in 1954. 
This production led to him being invited to record underwater expeditions in different parts of the world, and then to launch extensive lecture tours of the USA based around the films he had made. By 1959 he had sold the boat and moved on to doing this full-time. Around this time he made his first appearance on the cover of Sports Illustrated magazine.
In 1959 he also took part in an archaeological expedition to Turkey, where he shot 3,000 Years Under the Sea, a film about the discovery of the oldest shipwreck found to that date. Another expedition took him to the Amazon to film the capture of freshwater dolphins for US aquariums.
In 1963 he made the award-winning Man Looks To The Sea, and two years later National Geographic bought the rights to a film he had made to record a year-long family trip to French Polynesia. This was shown on TV and led to him becoming associate producer and underwater cameraman on 1971's Blue Water, White Death, the first cinema film dedicated to sharks.
Audiences were captivated by the sight of the divers, including producer-director Peter Gimbel and shark experts Ron & Valerie Taylor, diving in South Africa with hundreds of oceanic whitetip sharks as they fed by night on a whale carcass. The divers did not use a cage, as would have been expected at the time, and demonstrated that it was possible to dive among sharks without coming to harm.
The team had to move on to southern Australia to dive with the great white sharks the film was supposed to be about but, four years before Jaws, the spectacular nature of Blue Water, White Death cemented Waterman's reputation.
Working on The Deep
Waterman was co-underwater director with Al Giddings on the 1977 Peter Yates film The Deep, based on a book by his friend, the Jaws author Peter Benchley. Set on the 1867 wreck of the Rhone in the British Virgin Islands, it would become a divers' favourite. The same year he also filmed Jaws of Death.
TV credits in the 1960s and '70s included Benchley's The American Sportsman, on which he worked for 10 years, The Bermuda Depths and The Explorers. Waterman and his son were the first such partnership to win an Emmy, for Dancing With Stingrays, which was also made for National Geographic, and Discovery Channel paid tribute to Waterman's body of work in its 1994 two-hour documentary The Man Who Loves Sharks.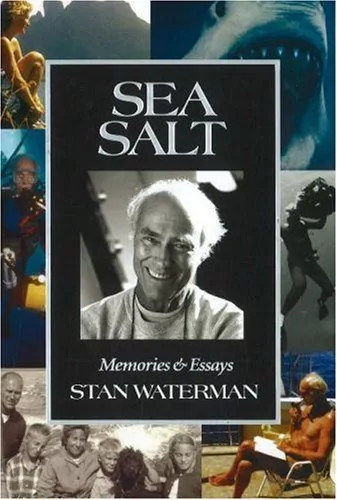 Waterman's autobiography Sea Salt: Memories and Essays came out in 2005, later followed by a second volume. In his later diving years he enjoyed exploring the underwater worlds of PNG, Malaysia, Indonesia, Fiji and especially Palau.
By now known as diving's grand ambassador, he was honoured as a "Diving Legend" at the Beneath the Sea show in 2007 but he would amuse fellow-divers by telling them that Susy would say: "Stan, you might be a legend in your own lifetime, but the garbage goes out on Thursdays."
Increasingly troubled by arthritis, he made his final dive in the Cayman Islands in 2013, aged 90. He survived a rare ocular cancer around that time, but afterwards sported an eye-patch.
Great white shark guru Rodney Fox wrote on hearing the news of Waterman's death: "Farewell and adieu, to Stan 'The Man Who Loves Sharks' Waterman, a great friend of Rodney Fox Shark Expeditions for over 50 years since first working on Blue Water, White Death in 1970.
"We shared many unforgettable, exciting and grand adventures over the decades with this great gentleman of the sea and the world will not be the same without him."
Also on Divernet: Senior moments, Covid-19 claims camera pioneer Schaefer, Titanic photographer Emory Kristof dies