As an early appetiser for the Wildlife Photographer of the Year 2023 competition results and exhibition in October, 16 Highly Commended entries have been released for viewing. 
These images are not category winners in the running for the main prize but are shown to give a flavour of the quality of photography that can be anticipated. These photographs and the 100 winners to be announced have been selected from nearly 50,000 entries from 95 countries, say the organisers. 
The winners of the 59th competition will be announced on 10 October at an awards ceremony hosted by wildlife TV presenters and conservationists Chris Packham and Megan McCubbin.
The opening of the exhibition of the top 100 images follows on 13 October. Wildlife Photographer of the Year is developed and produced by the Natural History Museum (NHM), London, where the exhibition starts, though it later goes out on tour.
Entries were judged anonymously on their creativity, originality and technical excellence by an international panel of industry experts, says the NHM. Of the 16 preview images, three are underwater shots captured by scuba divers, including the UK's Alex Mustard.
Coral Connections, Highly Commended in the Under Water category, was taken by Mustard in Indonesia's Lembeh Strait, and shows the biodiversity of a healthy coral reef as ghost gobies swim within the branches of a seafan.
Mustard is particularly fond of normally skittish gobies and was determined to picture more than one in the frame, though he had not expected to see a copepod parasite on one of the fish. 
Ghost gobies use gorgonians as a refuge or feeding platform, and perfectly blend into their surroundings. Capturing the vibrant, contrasting colours meant holding steady in the current to get a long enough exposure. (Taken with a Nikon D850 + 105mm f2.8 lens, Subal housing, Retra strobes, 1/8th at f/16, ISO 100).
The Vanishing Seal, a mosaic-like image of a Mediterranean monk seal taken in Greece by Bruno D'Amicis from Italy, was Highly Commended in the Natural Artistry category. Working under permit, the photographer lay hidden on a ledge for several hours before the seal glided through the shallows and disappeared into a cave below. 
The reflections on the water helped to hide the elusive seal, and allude to the risk of extinction of the species, which is one of the most endangered mammals on Earth as a result of historic hunting and human encroachment on its habitat. (Taken with a Canon EOS R5 + 24-70mm f2.8 lens at 70mm + polarising filter, 1/250th at f/3.5, ISO 3200)
Another Italian photographer, Pietro Formis, captured Death in Waiting in Rijeka, Croatia (lead photograph). Highly Commended in the Animal Portraits category, it shows a Mediterranean stargazer peering through the sandy seabed. 
The ambush predator buries itself in the sand by wriggling its body until it is invisible except for its eyes and teeth, then lies in wait for small fish and invertebrates. Its coastal habitat is under pressure from erosion and pollution, and it often ends up as bycatch. 
Formis approached carefully to avoid disturbing the fish, and combined the concentrated light from the flash with a slow shutter-speed and deliberate movement from his camera to present his subject lit through a curtain of turquoise water. (Taken with a Canon EOS R5 + 100mm f2.8 lens, Marelux housing; Inon Z-330 strobe + Marelux SOFT snoot, 1/6th at f/16, ISO 160)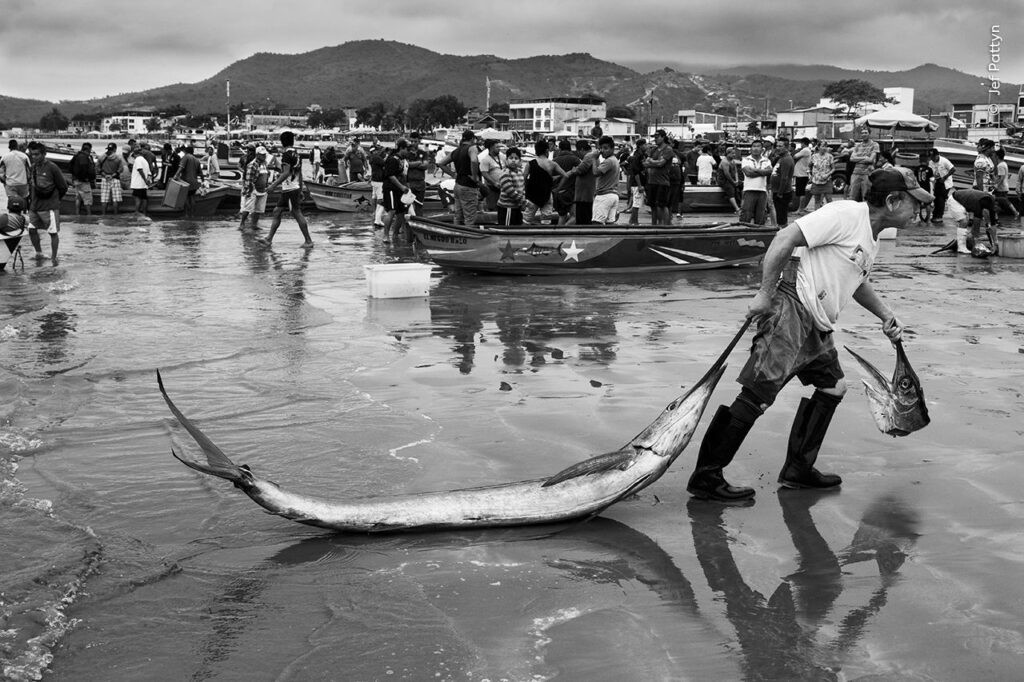 Prize Catch by Jef Pattyn of Belgium and the Netherlands scored in the category Oceans: The Bigger Picture, and depicts an artisan fisher dragging a sailfish across a beach in Puerto López, Ecuador. The photographer had spent a number of early mornings watching the fishers landing their already-prepared catches, surrounded by hungry birds, to load onto trucks. 
Artisan fishing provides vital employment and is relatively small-scale in Ecuador but still has an impact on marine mammals that become entangled in nets. (Taken with a Canon EOS 7D Mark II + 24-105mm f4 lens; 1/500th at f/7.1, ISO 400)
The topside as well as the dive-related Highly Commended entries, and more information about the Wildlife Photographer of the Year 2023 competition and exhibition, can be found on the Natural History Museum site.
Also on Divernet: Mustard's seaweed among Highly Commended WPOTY images, Ice-diver Ballesta strikes again in WPOTY '22, Teaser For Wildlife Photographer Of The Year, Diver Ballesta triumphs with his Creation