Garmin continues its crusade into the diving world with the launch of the third version of the well-regarded Descent wristwatch dive computer – the MK3/MK3i – which was unveiled at the DEMA trade show in New Orleans.
Garmin also released a fresh version of the Descent G1 Solar, the Ocean Edition, which is made from recycled ocean-bound plastics – 100 percent of the plastic used to make the watch's housing, bezel and buttons comes from recycled plastic.
Descent MK3/MK3i and T2 Transceiver
The Descent Mk3 series comes in two sizes – 43mm and 51mm (so effectively the same rough sizes as the Descent MK2/MK2i and the MK2S) – with air integration options on both, and features a bright touchscreen AMOLED display, a 200m dive-rated case with metal leakproof buttons that are fully operational at that depth, and up to 48 hours of battery life in dive mode.
The 51mm Descent Mk3i also comes with a built-in LED flashlight for greater visibility in low-light conditions – even underwater.
When paired with the Descent T2 transceiver, divers will be able to send out assistance alerts to other connected divers, and exchange preset messages with other divers up to 30 metres away on a soon-to-be-released software update.
Designed by divers for divers, the Descent Mk3 series is ready for the next excursion with dive modes for single and multiple gas dives (including nitrox and trimix), gauge, apnea, apnea hunt and closed-circuit rebreather.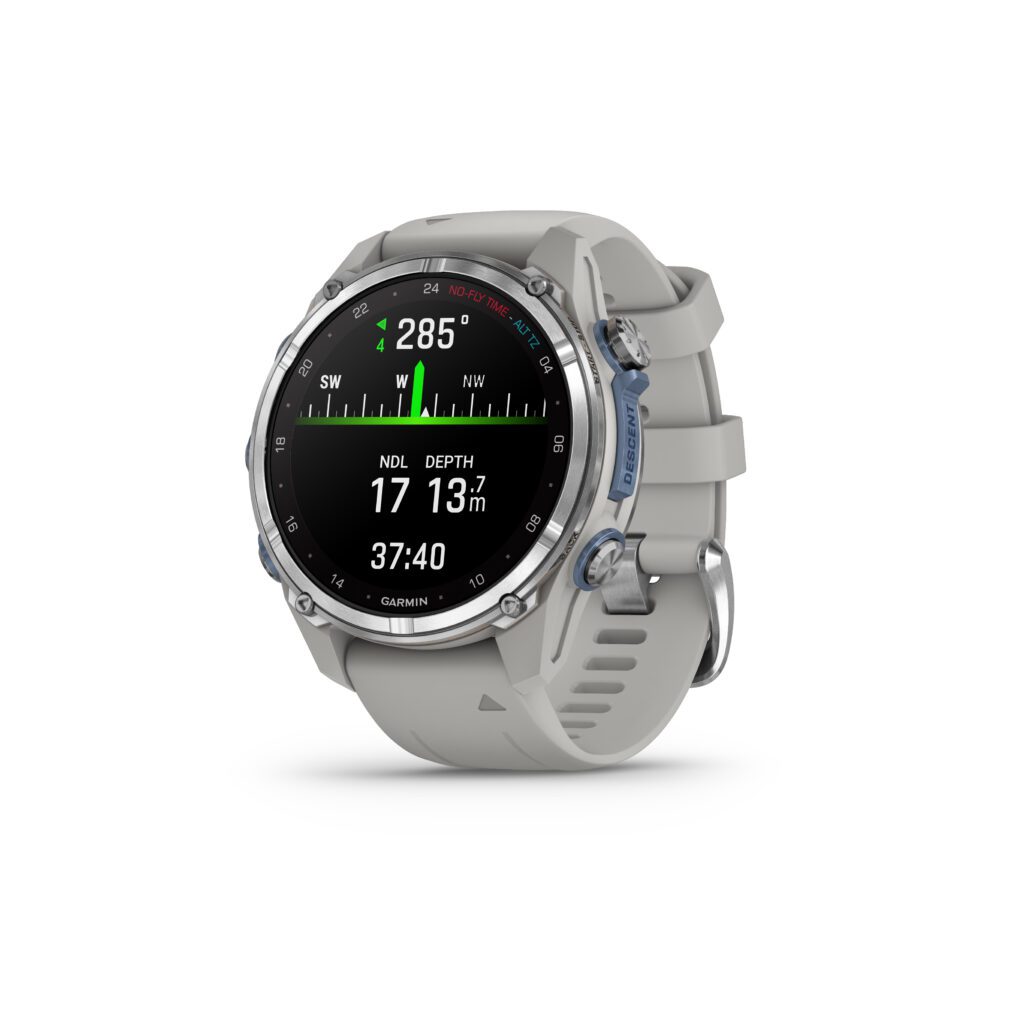 Divers can customise additional data screens for each dive mode, or choose a simplified dive screen with larger text to make it easier to see critical diving data.
New DiveView maps offer bathymetric depth contours and more than 4,000 preloaded dive sites worldwide to help locate specific sites like shipwrecks, identify hotspots for spearfishing and more.
Built-in sensors – like an altimeter, barometer, compass and even an underwater compass – help navigate a dive and surface GPS helps track entry and exit points on the surface. Divers can also use the variometer tool to monitor their freedive descent and ascent rates through tone and vibration feedback.
Doubling as a premium multisport GPS smartwatch, the Descent Mk3 series includes dozens of preloaded activity profiles for trail running, swimming, hiking, golfing and more so users can track the ways they move.
Premium fitness features like VO2 max, daily suggested workouts for running and cycling, endurance score and hill score can help users stay fit for their next dive while wellness insights like sleep monitoring, sleep score, Pulse Ox and Jet Lag Adviser can help users understand their body better.
Whether out exploring a new destination, or staying closer to home, the Descent Mk3 series has navigation and orientation features to help every step of the way. Preloaded TopoActive maps from around the world can help keep explorations on track, while SatIQ technology can help provide superior positioning accuracy with multi-band GPS while optimising battery life.
Packed with connected features, the Descent Mk3 series lets divers receive smart notifications; download songs from Spotify, Deezer or Amazon Music (premium subscription required) for phone-free listening; workout with greater peace of mind with incident detection and assistance; breeze through checkout lines with Garmin Pay contactless payments; and more.
Available now, the 43mm Descent Mk3 has a suggested retail price of £1,099.99, while the 43mm Descent Mk3i with added air integration, diver messaging capabilities and Carbon Gray or Bronze titanium bezel options is £1,249.99.
For those looking for air integration, diver messaging capabilities and a larger display, the 51mm Descent Mk3i is offered with a Carbon Gray DLC titanium bezel and black silicone band for £1,429.99, or with a DLC titanium band for £1,599.99. The Descent T2 transmitter has a suggested retail price of £429.99.
"From recreational to technical and every dive in between, the Descent Mk3 series and Descent T2 transceiver add innovative new features to help you explore deeper waters. One of those being enhancements to our SubWave sonar technology, which now makes it possible to communicate with other divers and even request assistance from nearby divers when help is needed – right from the wrist. This, coupled with air integration, DiveView maps and dive readiness tools help make these premium dive computers an essential part of your dive kit," explained Dan Bartel, Garmin Vice President of Global Consumer Sales.
Descent G1 Solar Ocean Edition
The Descent G1 Solar Ocean Edition is a rugged watch-style dive computer with features for both underwater and topside adventures. Designed with environmental responsibility in mind, 100 percent of the plastic used to make the watch's housing, bezel and buttons come from recycled ocean-bound plastics.
In addition to its eco-friendly construction, the Descent G1 Solar Ocean Edition features a solar charging lens that lets divers explore longer, with up to 25 hours of battery life in dive mode and up to 124 days in smartwatch mode when solar charging.
Eliminating the need for a separate dive computer and smartwatch, the Ocean Edition includes Garmin's popular dive features to help users make the most of their diving experience – plus multisport and smart features for an active lifestyle out of the water.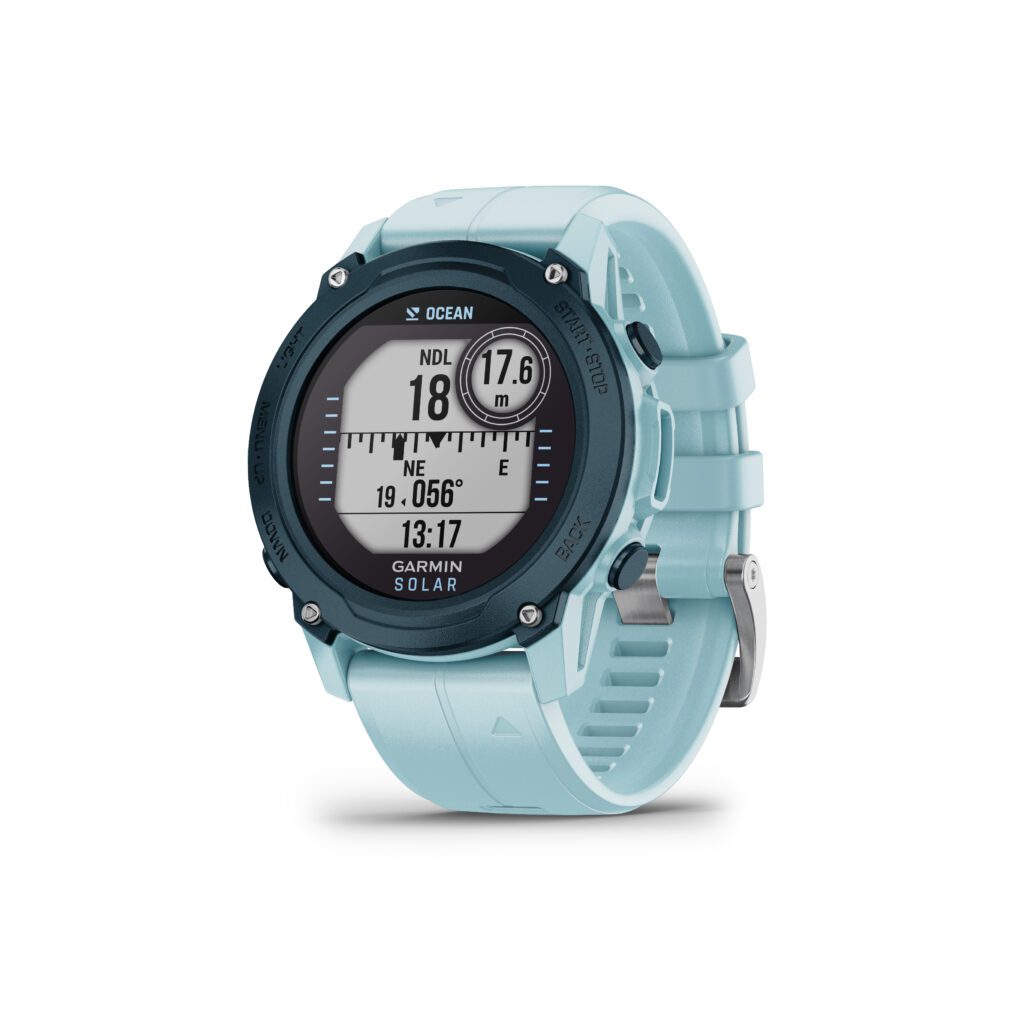 "We are proud to unveil our first-ever product with parts made with recycled ocean-bound plastics. With the Descent G1 Solar Ocean Edition, we're taking materials that were once at risk of harming the ocean habitat and turning them into parts to help create an eco-friendly dive computer that's made to explore it," said Bartel.
Once ocean-bound plastic is collected around bodies of water, it is sorted, cleaned and dried. The plastic is then melted into a pelletized resin before being reinforced with glass fibre and sent off to be coloured. From here, the material is moulded to create the shape of the watch housing, bezel and buttons, then incorporated into the G1 Solar Ocean Edition.
The Descent G1 Solar Ocean Edition features a 45mm reinforced polymer case, scratch-resistant sapphire lens and an easy-to-read monochrome display. Water-rated to 100m and tested to U.S. military 810 standards for thermal, shock and water resistance, the Ocean Edition is rugged and ready for adventures both above and below the water. Available now in dark lakeside with an azure blue band, it has a suggested retail price of £569.99.